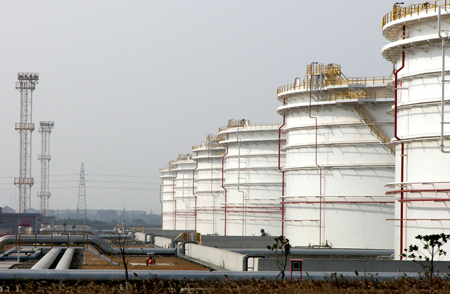 A strategic crude oil reserve base in Ningbo, Zhejiang province. Zhang Heping
China may build a strategic crude oil reserve in the northwestern Gansu province as part of the country's plan to add eight new oil stockpiles by 2011, said a local official.
Related readings:


 Second phase of national oil reserve base sites undecided


 China starts first national oil reserve base


 More oil reserve bases to be built


 First strategic oil reserve begins operation

The reserve is likely to be built in the Hexi Corridor region, and a feasibility study is currently being done on the proposed project, Li Jianhua, Party secretary of Jiuquan city, told the Hong Kong-based newspaper Wen Wei Po.
Two cities in the province, Yumen and Wuwei, will likely be short listed for the reserve project, said Li.
Meanwhile, China National Petroleum Corp has started constructing a 1.8-million sq m commercial crude oil reserve in Gansu, he said.
These facilities in Gansu province would make it an important oil reserve base in western China, he said.
The National Energy Administration (NEA) announced at a national energy conference in February that China would build eight new crude oil reserves by 2011. The program will increase its strategic crude reserve capacity to 44.6 million cu m.
The eight reserves will form the second batch of the country's strategic oil reserves plan. However, so far only two sites, Jinzhou in Liaoning province and Huangdao in Shandong province, have been disclosed to the public.
Analysts said the second batch of the reserves plan would include some sites in inland areas.
In 2004, China started a strategic oil reserve base program as a way to offset oil supply risks and reduce the impact of fluctuating energy prices worldwide. The first batch of these bases include four in coastal provinces - in Zhenhai and Zhoushan of Zhejiang province; Huangdao in Shandong province; and Dalian in Liaoning province.
The country has completed the construction of the first four reserves, the NEA said.
Wanzhou in Chongqing municipality, Caofeidian in Hebei province and Shanshan in Xinjiang Uygur autonomous region have reportedly started planning for some strategic oil reserves.
Analysts said China should take advantage of a record decline in global crude oil prices to build up more strategic reserves. "Compared with last July, when global oil prices topped $147 per barrel, it has now dropped by 70 percent. We should use the opportunity to build more reserves," said Lin Boqiang, energy professor at Xiamen University.
China's leading oil companies, PetroChina and Sinopec, have all started increasing their commercial oil reserves.
China is also to increase its refined oil reserve to 10 million tons by 2011.