Wall Street snapped out of its stupor and posted its best performance of the year Tuesday, finding a badly needed glimmer of optimism in the most unlikely of places: Citigroup is actually managing to turn a profit. The 379-point gain for the Dow Jones industrials, a rally of almost 6 percent, was a welcome break from almost uninterrupted selling. But just as almost nobody expects the banks to snap back to health, almost nobody thinks the market has hit its bottom.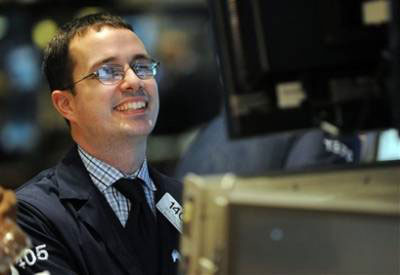 Neil Gallagher of Bear Wagner Specialists works on the floor of the New York Stock Exchange, Tuesday, March 10, 2009 in New York. Led by financial companies, the market made its first big move upward in weeks Tuesday after Citigroup Inc. said it had operated at a profit during the first two months of the year. [Agencies] 
Related readings:


 HSBC stock leads market recovery


 Blue chips drag stock market lower by 3.39%


 UMC stock rises despite 57% decline in Feb sales

"One day isn't going to make a trend," said Kurt Karl, chief US economist at Swiss Re.
Citigroup Chief Executive Vikram Pandit said in a letter to employees that the bank had operated at a profit for the first two months of this year and was on track, based on historical trends, to make $8.3 billion for the quarter.
Pandit said the bank has had its best performance since the third quarter of 2007, the last time it booked a quarterly profit.
The news broke a months-long torrent of bad news from the banking industry — particularly for Citi, which had grown so shaky the federal government had to take a 36 percent ownership stake.
Banking stocks led the markets higher all day. The Dow finished at 6,926.49, its highest close since late February. All 30 of the Dow industrial stocks gained ground.
Citi itself finished at $1.45, a gain of 40 cents. Last week, its stock fell below $1, a level so stunning it left the bank at the mercy of late-night comedians.
A gain on Wednesday would give the Dow its first two-day winning streak since early February. But Wall Street is used to false starts. The Dow had gained 200 points in a single day five times in 2009 before Tuesday. Each time, it lost ground in the next session, twice by triple digits.
And after they hit their lowest points last year, both the Dow and the Standard & Poor's 500 jumped about 20 percent. But those lows didn't last, and Wall Street is now trading well below those levels.
On Tuesday, the S&P closed at 719.60, still less than half of its value at the market peak in October 2007.
"I would be surprised to see us trade back over 800 in the near term," said Ben Halliburton, chief investment officer of Tradition Capital Management in Summit, N.J. "The news coming out on the economic front will continue to be rather gloomy."
Analysts also suggested that the market's gains, especially among financial stocks, could be attributed in part to covering by short-sellers — investors who bet stocks will fall, and are forced to buy to limit their losses when the market rallies.
Among banking stocks, Bank of America gained 28 percent, JPMorgan Chase gained 23 percent and Wells Fargo & Co. gained 18 percent.
Jon Merriman, chief executive of brokerage Merriman Curhan Ford in San Francisco, said the letter from Citi's CEO shows the bank is lending. Government officials and market analysts alike have said more lending is key to an economic recovery.
"Maybe Citibank is not going to zero, that means it's going to lend again and then the economy will turn," he said. "People today in the stock market are connecting those dots. And the market is up broadly, it's not just the banks."
Reports also surfaced Tuesday that federal regulators are considering a proposal to reinstate the "uptick rule," which proponents say helps protect companies from excessive short-selling, when investors bet a stock will drop. The rule expired in 2007.
And investors were encouraged by Federal Reserve Chairman Ben Bernanke's call for an overhaul of the country's financial regulatory system. Speaking before the Council on Foreign Relations, Bernanke said companies deemed "too big to fail" must be subject to more rigorous supervision to prevent them from taking on excessive risk.
Bernanke's remarks come as the Obama administration and Congress begin to devise their overhaul strategies.
The combination of good news was enough to propel the Dow to its best day since Thanksgiving week, when it notched back-to-back gains of 494 and 397 points. But there will still plenty of pessimism on Wall Street.
"There's nothing that anybody can do to turn the market around," said Harry Rady, chief executive of Rady Asset Management. "This is just a little bear market blip."
Halliburton was hesitant even to put much stock in the Citigroup announcement for fear that rising losses on loans could eat away at the bank's operating profit.
As long as housing prices are falling and loan defaults are rising, "They are going to have to take asset write-downs," he said. "I don't think this is a game-changer."
Late last month, in its third attempt to rescue the bank from collapse, the Treasury Department took a 36 percent stake in Citi. The bank has already received $45 billion in bailout money.