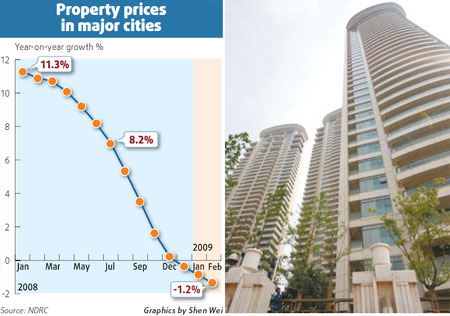 Property prices in China's 70 major cities fell 1.2 percent year-on-year in February, the third drop in a row since December 2008, the National Development and Reform Commission said in a statement yesterday.
Related readings:


 Long-term real estate plan due after Oct 1


 China pledges to keep real estate market stable


 Falling prices bolster property sales

 Authorities work on low-income housing plan

The decrease rate is 0.3 percentage points higher than January when property prices dropped 0.9 percent on a yearly basis.
Beijing, Shanghai and Guangzhou, the largest cities in the country, all experienced a price fall, with a drop of 0.7 percent, 2.4 percent and 4.4 percent, respectively.
The price drop has, however, stimulated sales. According to China Index Institute, the country's largest real estate research organization, property transaction volumes in 80 percent of the cities it monitors experienced a month-on-month increase in February.
Property sales in Guangzhou were up 85.6 percent, and that in Beijing and Shanghai also saw an increase of some 50 percent.
"Falling prices and increasing sales will continue into the second quarter," said Qin Xiaomei, research chief at CB Richard Ellis' Beijing branch.
An apartment in Tomson Riviera, the most expensive residential complex in Shanghai with an average price of 110,000 yuan per sq m, was sold for 68,000 yuan per sq m, a discount of 38 percent, in January.
Along with the sales rebound, property developers have also tweaked their pricing strategies.
Beijng Runfeng Real Estate Co Ltd, the developer of Riverside, a residential project in the capital's CBD area, initially priced its new apartments at 14,000 yuan per sq m. The price is now around 2,000 yuan lower than those sold last year.
The marketing manager of Runfeng Real Estate said the company may adjust prices when its new block opens for sale this weekend. That would depend on buyer feedback and market changes, he said.
Though property prices in key cities have dropped, the prices of new residential buildings in a number of second- and third-tier cities have increased. Yinchuan in the Ningxia Hui autonomous region and Beihai in the Guangxi Zhuang autonomous region topped the list with a price increase rate of 8.7 percent and 6.9 percent, respectively, in January.
"This is mainly due to their low price base," said Qin of CB Richard Ellis. "Those cities' GDP growth is strong enough to fuel more increases in property prices."