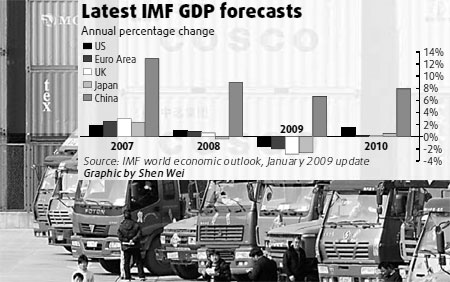 China is likely to overtake Japan to become the world's second largest economy, either this year or by 2010, a research paper issued recently by the China Policy Institute of the University of Nottingham (UK) has revealed.
Yao Shujie, an author of the research paper, had said two years ago that China would become the No 2 in the world's economic pecking order in 2018.
"Right now, we don't have figures for Japan's GDP in 2008, but I think China may have already overtaken Japan last year," Yao told China Daily in a telephonic interview yesterday.
Based on the World Bank and IMF's figures on China and Japan's 2007 GDP and output growth rate of 2008, Yao estimated China and Japan's GDP would reach $4.42 and 4.68 trillion in 2008, respectively.
Yao's research has revealed that the US, Japan, Germany and the UK are not likely to recover to their 2007 output levels until 2011 or 2012, but China is expected to expand at 7 to 8 percent this year.
Related readings:


 China predicted to become world's No 2 economy by 2010


 Wen: We can achieve 8% growth


 Spokesman: China can achieve 8% GDP growth through efforts


 Govt on track to reach GDP growth goal

Contrary to many economists' belief that China will grow at a subdued rate, Premier Wen Jiabao said in his work report last Thursday that the country would be able to achieve a growth target of about 8 percent this year if proper policies and measures are put in place.
China will greatly shorten the time needed to catch up with the US and become the world's largest economy although it is less certain that it would happen in the next two decades, it said.
Fan Jianping, director of the Economic Forecasting Department of the State Information Center, responded to Yao's report yesterday, saying that such a kind of ranking is meaningless, considering China's extremely low per-capita GDP, which he believes is the most important indicator to determine whether a country is a developing country or not.
"It's just a matter of time before China surpasses Japan in the economic pecking order. But, however big our economic output is, it won't change the fact that China's per-capita GDP is very low," he said.
In the World Bank's ranking of GDP per capita for 2007 using purchasing power parity, China was ranked 112th at $5,370, behind Egypt, El Salvador and Armenia.