Insurance companies in Hong Kong are expressing growing concern that customers may terminate their insurance contracts, as the financial crisis whittles down their savings.
Chee Cheong, Greater China Regional CEO at ING Insurance Asia/Pacific, said it is normal for people to cut their insurance when their savings start to decline. Yet he said the problem is not unique to Hong Kong, but applies to many markets.
"But, people still need protection and they have to know how to re-arrange their portfolios," Cheong said.
Cheong added that people are opting for traditional life insurance coverage or health coverage amid the current financial meltdown. He said ING Insurance will try to re-position its products according to market conditions.
"When the investment market improves, (sales of) our investment products will also improve," he said, adding that life insurance will be the company's long-term focus.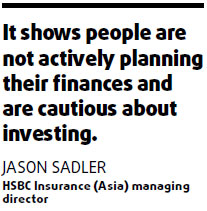 A recent survey by HSBC Insurance found that despite the ongoing recession, six in 10 people in Hong Kong are more worried about getting cancer or some other critical illness than about job security and investment losses.
HSBC Insurance (Asia) managing director for Hong Kong, Jason Sadler, said people are now "going back to basics" - looking for simple and effective ways to protect themselves and their families.
The survey also asked people about the make-up of their long-term financial planning. Bank savings, MPF or pension funds, critical illness insurance and whole life insurance were among the top financial products mentions.
Sadler, however, pointed out that more than half of respondents have not made changes to their financial plans over the past 12 months, despite the global financial crisis.
"It shows people are not actively planning their finance and are cautious about investing," Sadler said.
"I won't buy investment-linked products right now, since I am quite worried about funds, especially after the collapse of Lehman Brothers. The transparency of those products is relatively low, which makes them less trust-worthy," said Jenny Law, an administration clerk, who has been paying savings and life insurance premiums for seven years and for the last five years has had critical illness insurance.
Law emphasized that she will continue to pay the contracts, especially the medical insurance, which ensures her of care at a private hospital, rather than awaiting for placement at a public hospital.
But Sam Cheuk, a business manager, has already made a tough decision.
"I started to pay that insurance contract more than a decade ago. But my financial condition is quite tight now, so I chose to stop the contract. I have also purchased other insurance for my family, which I have not terminated, since I would like to give them much more protection," said Cheuk.
But, Sadler stressed that people should think carefully about terminating their insurance, since they usually lose the benefits specified on the contract.
"When the customers face difficulties paying their installments, they should try to talk to the insurance companies or agents," Sadler said. "The insurance companies can usually offer them premium holidays for three to six months."
Sadler said the company is developing different means for people to buy their insurance products, for instance, through the Internet or ATM.
"We are now making it easier for people to buy insurance, while we will continue our talks with the customers," he added.