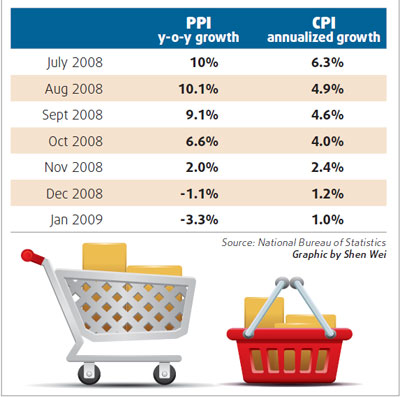 China's two key price barometers, the producer price index and the consumer price index, are likely to register declines in February, analysts said, even as they cautioned that the rate of inflation remains a potential threat to the domestic economy during the second half of the year.
Related readings:


 CPI sign of economic 'recovery'


 China's consumer price index up 1.0% in Jan


 Prices indices reflect deflation threats
The consumer price index (CPI), an inflation rate gauge, may drop by as much as 2 percent year-on-year in February, forecasts by domestic research institutions warned. This would likely be the first negative growth since December 2002.
Tang Jianwei, an analyst with the Bank of Communications, said the February CPI would fall by 1.2-1.8 percent year-on-year. A forecast by the Industrial Bank pointed to a 2 percent drop for the same month.
"Factors that lead to downward price movement would far outnumber those that would possibly push up prices this year," said Tang. "The CPI, therefore, may continue to weaken in the coming months."
He said CPI growth would remain in negative territory during the first half of the year, while it may regain momentum if the economy starts to recover as expected in the second half.
"Prices may hit the bottom in the first half," he said.
In January, consumer prices rose by 1 percent year-on-year, down from 1.2 percent in December despite a consumption boom during the traditional Spring Festival shopping season.
The consumer price for the first quarter of this year, meanwhile, would drop by 0.7 percent year-on-year, a report by the National School of Development (NSD) of the Peking University indicated.
The producer price index (PPI), or the ex-factory price, is also expected to fall by 4-5 percent year-on-year in February, compared with a 3.3 percent drop in January and 1.1 percent decline in December, a report by the Industrial Bank noted.
The global financial crisis has hit China's economic growth, marking deflation as a possible concern for policymakers.
But the 4-trillion-yuan stimulus package and relaxed monetary policy aimed at boosting economic growth may cause the rate of inflation to climb, just like it did in 2007 and during the first half of 2008, analysts warned.
"Serious as it seems to be, deflation may not be the most dangerous menace for the Chinese economy," said Lu Feng, senior economist with the Peking University's NSD. "The ample liquidity, which risks pushing up the rate of inflation, would pose a major challenge to policymakers in the second half of the year," he said.