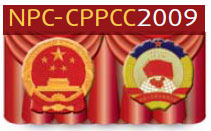 A series of food safety scandals in recent years has alerted people to the dangers inherent in what they consume. The issue is expected to top the agenda during the annual NPC and CPPCC sessions - the country's top-level political events - starting from March 5 and March 3, respectively.
Last year, melamine-tainted milk killed six babies and made nearly 300,000 other infants sick. This month, more than 80 people fell ill in Guangdong province after consuming pig organs contaminated with an illegal feed additive. The latest incident has re-ignited the topic.
Related readings:


 China to set up central food safety commission


 Food law a healthy start


 Food safety body set to take shape


 Reform of food safety system 'must be pushed forward'

In fact, food and drug safety has surpassed other pressing issues, such as medical reform, employment and housing, among China's populace. It has become the No 2 concern for the public, only next to corruption, according to an ongoing survey on the People's Daily website.
Food safety received 74,000 votes as of Friday, closely following the 78,000 votes on corruption.
The public has placed high faith in a recent draft food safety bill, which is likely to be passed into law this weekend. Under the proposed law, the State Council, or the Cabinet, is expected to set up an overarching food safety commission to strengthen the country's food monitoring system, whose inefficiency has long been blamed for repeated food scandals.
Many people believe the law would help improve China's food safety supervision, something the public considers the fundamental reason behind these food safety incidents, according to the People's Daily online survey.
The public thinks the most efficient way to better food safety standards is by improving "government supervision".
Experts, however, have warned that an umbrella legislation of this sort would not be able to solve all problems related to food safety.
"As of now, we do not know what exactly the national food commission would do. Since the draft law has failed to fundamentally change the current food safety supervision mechanism, (the issues of) overlapping responsibility and law-enforcement still remain," said Chen Junshi, a senior researcher at the National Institute for Nutrition and Food Safety.
At least 10 government departments are now involved in food safety supervision. However, the draft law has trimmed that number by half.
Chen said the current scattered production model is to blame for the many recent food safety incidents. "There are about 200 million farmers and 500,000 food producers in the country. It is almost impossible to get rid of accidents under the current situation," he said.
Luo Yunbo, director of the food science and nutritional engineering school of China Agricultural University, said public awareness of food safety norms was very important.
"We are improving gradually, but the public must also understand that even in developed countries like the US, food safety incidents still occur," Luo said.