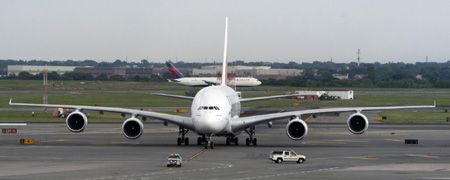 An A380 jet taxis on arrival at the JFK International Airport in New York recently. [Bloomberg News]
Airbus is unlikely to change the output target at its Tianjin facility despite a plan to trim production of the A320 family of aircraft, a senior company executive said.
Related readings:


 China to 'fully complete' Airbus A320 wings


 Airbus signs wing deal with Xi'an Aircraft


 Airbus to set up joint venture for A350 in NE China


 China-assembled airbus set for test
The Airbus A320 final assembly line in Tianjin will deliver its first aircraft in June and roll out 10 more by the end of the year as scheduled, said Laurence Barron, Airbus China president.
"For the time being, we will stick to our plan (for production in Tianjin). But if things get worse and we have to progressively adjust our production rate, we may have to rethink about Tianjin," Barron said.
The European aircraft manufacturer last week said it would cut production of its best-selling A320 family of aircraft from 36 to 34 a month starting from October this year. It said it would also abandon plans to ramp up production of two other models.
The Tianjin unit was set up in September last year as Airbus' third final assembly line after France and Germany. The facility was targeted to roll out four jets a month by the end of 2011.
The Tianjin plant has been a strategic part of Airbus' previous plan to ramp up the production capacity of its single-aisle A320 family of aircraft (from 36 to 40 jets a month) to meet strong market demand.
But the international air transportation market has deteriorated due to the global financial crisis, which has sapped travel demand and dried up financing options for airlines. Air carriers have been forced to cut capacity by grounding jets and canceling or deferring delivery of aircraft.
Bloomberg News reported earlier this month that Boeing was prepared to cut production by about 10 percent next year if more orders are deferred or canceled. Airbus expects its new orders this year to only reach about half of the 2008 level.
Barron said Airbus was negotiating with some Chinese airlines about "some deferrals" and altering payment schedules, although it has not received any cancellation from China. Airlines usually have to pay for these changes.
Airbus is expected to deliver 70 to 80 jets to China this year, fewer than its original plan of 83 deliveries, Barron said. It delivered 73 jets to Chinese airlines last year.
Earlier media reports had said China Eastern Airlines was planning to receive only 13 aircraft this year, a 40 percent drop from its original plan.
The other two major Chinese carriers, Air China and China Southern Airlines, have not publicized plans to defer taking deliveries.
The Civil Aviation Administration of China, the industry watchdog, said last year that it would "encourage" airlines to cancel or defer taking delivery of new planes this year in order to maintain a balance between demand and supply.