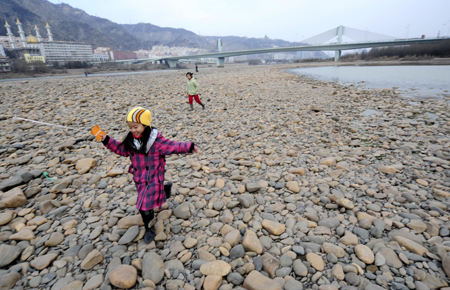 Children play on the parched riverbed of a section of the Yellow River in Lanzhou, Gansu province, yesterday. [China Daily]
Because of continued low rainfall, high temperatures and less river water flow from upper reaches, Gansu province's drought situation is worsening even as the emergency eases in other provinces, an article on the ministry's website said yesterday.
Related readings:


 China reduces emergency level as drought eases


 Heavy snowfall helps ease drought in N China


 Drought situation continues to improve


 Snow in Beijing, but drought fight still on
The area of farmland affected by severe drought in Gansu remained at its peak of 483,000 hectares, according to the Ministry of Agriculture.
The ministry called for more funds and hi-tech measures to be used in the fight.
Tang Shilin, an official with Dongxiao county government in central Gansu, said more than 80 percent of the county's farmland was severely affected by drought.
"Our county has seen much less rainfall compared with the past since October last year," Tang told China Daily yesterday.
"Now the drought situation is as worse as that 60 years ago when people's lives relied totally on rainfall," he said.
Tang said the county is maintaining its irrigation system to try to save its main crops; potato, wheat and corn. "Harvest will be definitely harmed greatly this year," he said.
The county is busy covering 4,700 hectares or 20 percent of its farmland with plastic membrane to prevent evaporation, he said.
Yin Yueping, an engineer with China Geological Survey Bureau, said more than 140 ground water sources in the country's drought-affected areas can be exploited. The bureau has sent technical experts to the affected areas to help out.
In other provinces in north China, recent snow and rain greatly alleviated the drought while the government's relief efforts took effect. China's Ministry of Agriculture on Friday reduced the level of the emergency to second class after snow and rain watered northern farmland in recent weeks.
In China's eight major wheat-growing provinces - including Henan, Hebei and Shandong - the area of drought-afflicted land has decreased by more than half from the most severe period on Thursday.
The ministry launched a top-level emergency response for drought on Feb 2, sending experts to help farmers irrigate their crops.
The government has also turned to cloud seeding and water diversion from rivers.