Related readings:


 Steel makers' net profit plummets in '08


 Steel sector reports 24.7% rise in sales in 2008


 Steel exports fall in 2008


 China steel prices fall for 2nd week on poor demand
China's steel exports are expected to further decrease this year while the total output may fall marginally, a senior official with the China Iron and Steel Association said yesterday.
Luo Bingsheng, vice-chairman of the China Iron and Steel Association said steel exports from China would decrease as overseas demand is expected to remain weak for most of the year.
Steel exports fell 5.5 percent year-on-year to 59.23 million tons last year, the General Administration of Customs said earlier this month.
Luo said the Chinese steel industry's reliance on exports is high. The sector's direct or indirect reliance on exports is about 23 percent, according to the association, underscoring the sector's vulnerability to a global economic downturn.
Crude steel output is expected to reach 490 million to 500 million tons this year, down slightly from last year, Luo said.
Steel output stood at 500.48 million tons in 2008, up 1.13 percent from a year earlier. The growth was 14.5 percentage points lower over 2007.
Due to the global economic crisis, the country's steel manufacturers have been suffering from shrinking demand at home and abroad since the second half of 2008.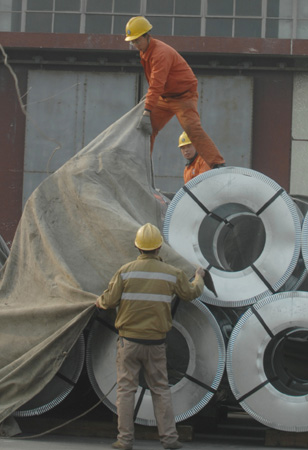 Workers cover steel rolls piled at Tianjin Port. [CFP]
At the same time, China's steel industry is also facing a surplus in production - about 160 million tons in 2008 - as well as the high costs of iron ore.
The 71 large and medium-scale steel mills monitored by the association made a profit of 101.05 billion yuan in the first-half of last year, up 26.1 percent year-on-year. However, they plunged into the red after incurring losses of 16.4 billion yuan in the second-half.
Only 30 percent of the Chinese mills managed to avoid losing money as steel prices crashed in October and November. Most of these are the small and private mills that react faster to market conditions.
Luo said he does not agree with the view that demand is reviving because prices recovered in January.
"The imbalance in supply and demand will continue to create an unstable situation," he said.
He said the industry has pinned its hopes for a recovery on whether China's economy can rebound in the second half, as the export markets are likely to remain weak. Only an expansion in domestic demand would help reach a balance between supply and demand.
The central government mapped out a stimulus package for the steel sector last month pledging to increase domestic demand for steel and adopt a more flexible tax rebate policy.
It also encouraged big steel makers to merge with rivals in order to create more competitive steel groups and said the industry needs to eliminate outdated technology, and not establish new projects that merely add to steel output.
Special funds will be allocated from the central budget to promote technological advancement of the sector, readjustment of the products mix and improvement of product quality, according to the plan.