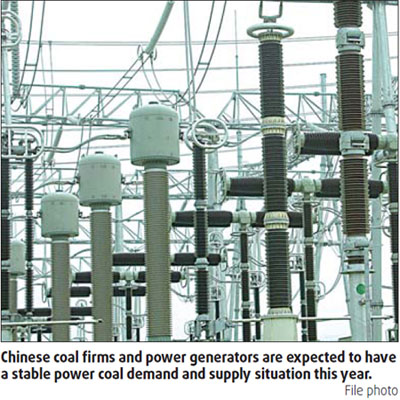 Although the annual coal price negotiation conference failed to reach any agreement, industry officials remain optimistic about the coal supply for China's power generation.
Liu Caiying, a senior industry insider and deputy director of China Coal Transport and Distribution Association, said that she was very optimistic about the relationship between Chinese coal firms and power generators, and also confident about a stable power coal demand and supply situation in 2009.
Related readings:


 Coal-fired power plants urged to purchase coal abroad


 Coal price drops sharply at Qinhuangdao


 King coal losing his power in electricity industry
Each year, China's coal producers and power companies sit down to negotiate next year's contract coal prices, which have long been a bone of contention.
The 2008 annual coal price negotiations, held in Fuzhou, Fujian province, in late December, reflected the tricky relationship between Chinese coal firms and power generators.
China's five leading power companies left the meeting without reaching any agreement with coal miners on the supply contracts for this yeawr as they were unwilling to concede miners' demands for higher prices.
Coal companies at the conference wanted to increase term prices this year by 4 percent to pass on their higher tax burden and other rising costs. But power generators hoped to cut prices by 50 yuan per ton, to ensure that they would not sink into the red this year.
Onlookers often say that relationship between the coal and power firms must be rather stormy, but Liu, a regular participant in the meetings, begs to differ.
"The power and coal industries are as closely related lips and teeth, and both of them can fully understand each other's difficulties."
She said this was proven during last year's snowstorm disaster, the May 12 earthquake and the Beijing Olympics, when both sides cooperated very effectively.
During such periods, large State-owned coal enterprises sold coal without a contract at a low price.
Last summer and autumn, when port coal prices soared to over 1,000 yuan per ton, these coal miners still kept their contract prices. Sometimes, the contract prices were even half the market price.
According to a report by China National Coal Association, during the Fuzhou conference, coal miners and power generators signed contracts for 389.2 million tons of coal, accounting for 59.8 percent of the total amount which is set by the government.
Such an amount is usually called "key power coal", accounting for a half of the country's output of coal for power generation, while power coal for the top five power generators accounts for a half of "key power coal".
She emphasized that coal miners and power firms have different expectations regarding the market this year, and that is the major reason the five top power firms didn't sign any contracts with major coal miners at the Fuzhou conference.
The coal firms believe that cost of a ton of coal should increase by an average of 60 to 70 yuan given a number of factors, such as the rate of value-added tax for coal increasing by four percentage points this year.
In the past, the price of key power coal was often lower than the market price, while the prices in some regions were even lower than the actual cost of the coal.
During the Fuzhou conference, although the contract prices of power coal for this year were higher than previous year, they were still 50 to 70 yuan per ton lower than market prices at that time and also lower than the average sales prices in 2008.
As for power generators, they expect the market price to fall this year. With international energy prices declining due to the global financial crisis, at the same time, China's coal industry is also experiencing a chilly winter of sliding prices.
Liu said that in fact, without contracts with State-owned large coal producers, power plants belonging to the "top five" had already signed contracts with local coal mines and there were no fears of a major shortage of coal for power generation this year.
In 2008, the National Development and Reform Commission (NDRC) twice put caps on the maximum price of coal for power generation. At almost the same time, the government twice raised electricity prices by 0.025 yuan per KWh and 0.02 yuan per KWh.
According to statistics, a 0.01-yuan rise in electricity prices can help power generators digest a 20-yuan increase in coal prices.
According to media reports, China's power companies may have incurred losses of 70 billion yuan in 2008 due to rising fuel costs and lackluster electricity demand.
Liang Dunshi, an expert with the China Coal Transport and Distribution Association, said: "We cannot attribute the losses of power companies, especially the top five, to growth in the price of power coal."
According to a report from the State Electricity Regulatory Commission, in the first five months of 2008, power firms' fastest-growing expenses were their additional costs, which rose 44 percent year on year, while fuel costs increased by 42 percent year on year.
Due to their rapid expansion and a great increase in their installed capacity, the asset-liability ratio of China's top five power generators kept increasing, reaching 80 percent for three of them.
The report said in the first quarter of 2008, without taking into account additional costs, the profit from 1 kWh of electricity should be 0.022 yuan. However, in reality, 1 kWh of electricity bears 0.036 yuan in additional costs.
Liang said huge financial costs and declining demand for electricity were the major reasons for the losses.
He added that the conflict between China's power generators and coal miners was largely due to the discrepancy between market-oriented coal prices and government-guided power prices.
Liu said that coal-power integration projects would be a good way ahead for the development of both industries, but at the same time, she suggested the government integrate coal and electricity prices in a bid to strengthen the role of the market in allocating resources.