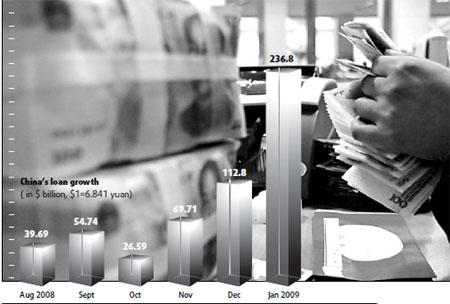 Source: People's Bank of China, Photo by Xu Jinbai and Graphics by Zhang Ye.
China's record loan growth in January indicates the $586 billion stimulus package is taking effect and the economy could rebound soon.
Chinese banks issued 1.62 trillion yuan ($237 billion) in new loans in January, up 101 percent year-on-year, the central bank said on Feb 12. The massive jump in lending is equal to about one-third of the loans issued in 2008, a year that began on a generally tight credit line.
Related readings:


 ICBC grants huge loans to Shanghai Bailian


 Dealers turn to pawnshops as loans dry up


 Loans to SMEs see strong growth


 Bank loans see striking rise in Jan

M2, which includes cash and all types of deposits and indicates overall liquidity in the financial system, grew in January, too, by 18.8 percent year-on-year. It increased 17.8 percent in December.
"The recent increase in bank lending is largely a positive sign," said Wang Tao, a Beijing-based economist with UBS Securities. "Real underlying lending has been rising strongly and appears to have mostly gone to stimulus-related infrastructure projects or to meet the rising need for liquidity in the real economy."
The massive growth in lending comes at a time when banks are rushing to cherry-pick the juiciest stimulus-package projects, especially major infrastructure ones needing long-term investment.
The Chinese government announced a $586-billion package on Nov 9 to boost domestic demand and shore up investment. The central government will shoulder about one-third of the cost, but banks will play an important role in financing bridge, railway and highway construction.
"The banks are fighting for the best projects in the government's stimulus package," said Ha Jiming, chief economist of China International Capital Corp. "It's not surprising to see an array of deals sealed in the past month."
Industrial and Commercial Bank of China, the biggest lender in the world by market value, said that 60 percent of its 117.1 billion yuan loans made in January went to State-backed infrastructure projects such as power grids, railways and nuclear plants.
Central bank figures show bill financing, which supplies working capital, amounted to 623.9 billion yuan, accounting for 39 percent of the new loans.
Medium and long-term corporate loans came to 522.9 billion yuan, or 32 percent of the total.
The drastic rise in lending can also be attributed to the pent-up demand for loans in 2008, when the central bank imposed curbs on lending until last November to combat inflation and prevent the economy from overheating.
The curbs left "many firms, especially small and medium-sized ones, facing a severe cash flow problem", said Sun Mingchun, an economist with Nomura International.
Policymakers lifted the curbs in November and raised the target for M2 growth to 17 percent for 2009, up from the 16 percent target that had been in place since 2006.
Morgan Stanley's economist Wang Qing said the fast loan growth will eventually translate into real economic activities and "the nation's economy will show signs of rebound in the second half".
The nation's economic growth dropped to a seven-year low of 6.8 percent in the fourth quarter in 2008, as exports registered the first negative growth in years in November and industrial output dropped to the lowest level since 1999 in the same month.
Some analysts say last December's economic indicators showed positive signs, suggesting the economy might have bottomed out.
The purchasing managers index, a measure of manufacturing, showed a second monthly increase in January after a record low in November. Meanwhile, electricity use and steel output, two key indicators of economic strength, also began to rebound in December.
"At the moment, no further weakening is already pretty good news," said Song Guoqiang, an economist with Peking University.