More than 32 million personal computers (PCs) were sold in China in 2008, up 15.2 percent year-on-year, with sales revenue reaching 161.24 billion yuan ($23.61 billion), a rise of 9.6 percent year-on-year, according to a report on Tuesday from CCID Consulting, a leading IT consulting firm in China.
Including desktop PCs, laptops and servers, the growth of both PC sales volume and value in China was slower in 2008 amid market gloom, the report indicated.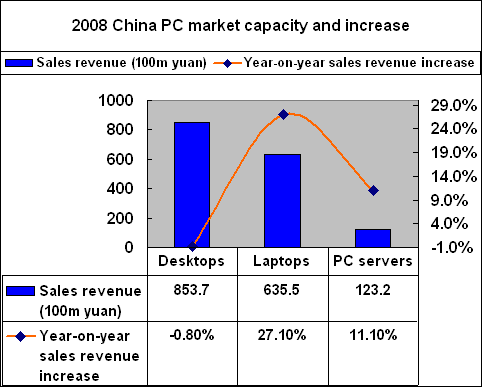 Around 22.49 million desktop PCs were sold in 2008, up 6.8 percent year-on-year, with sales revenue falling 0.8 percent to 85.37 billion yuan compared with 2007.
Meanwhile, the laptop market performed better than average, with sales volume and revenue of 9.02 million units and 63.55 billion yuan, up 43.2 and 27.1 percent respectively.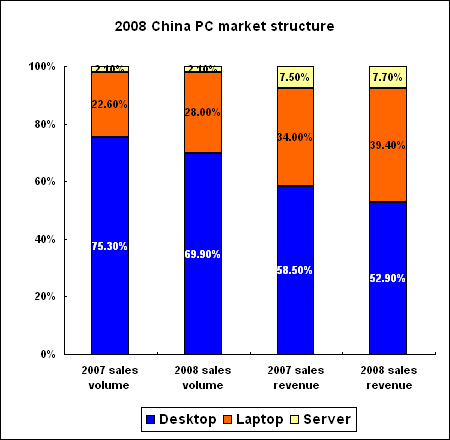 Server sales revenue witnessed a moderate increase of 11.1 percent to 12.32 billion yuan, the report revealed.
The report also said that the growing popularity of laptops, saturated first- and second-tier markets and the global financial crisis had dampened China's desktop market in 2008.
In addition, companies, especially small- and medium-sized firms, slashed their IT budgets as the financial crisis began to hit China, it said.
Chinese PC brands will find it difficult to cope amid soaring raw material and labor costs, and challenges from international brands, according to the report.