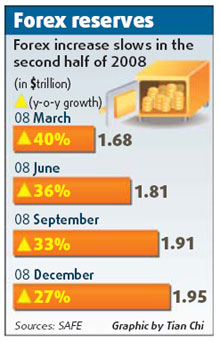 The government will use its abundant foreign exchange reserves to boost imports and domestic demand as part of its efforts to check the economic slowdown caused by the global financial crisis.
Addressing a press conference yesterday, Fang Shangpu, deputy director of the State Administration of Foreign Exchange (SAFE), said the administration would introduce more measures to support Chinese firms to expand overseas, too.
But the government is determined to keep the yuan's rate "generally stable", another SAFE official said.
Fang's remarks confirm what Premier Wen Jiabao told the World Economic Forum in Davos last month - that China could use its foreign exchange reserves to boost the domestic market.
As a step toward that, the government will send a business delegation to four European countries later this month with purchase orders worth 15 billion yuan ($2.2 billion) for technologies, equipment and other goods.
Related readings:


 China seeks "more active" use of forex reserves


 Growth rate of forex reserve falls


 Forex reserve's annual growth drops for 1st time in decade


 China eases rules on trade-related forex advances
SAFE will encourage trade credit and cross-border financing, and take steps to match these actions with proper risk management, Fang said. A number of Chinese companies are already said to be pursuing major merger and acquisition deals overseas, most noticeably in the raw materials sector.
Government spokespersons, including SAFE officials, denied Internet reports that the yuan would be devalued at 6.95-7 against the US dollar.
Keeping the yuan exchange rate at "a reasonable and balanced level" is conducive to not only China, but also many other economies, said Deng Xianhong, another SAFE deputy chief. "It will contribute to the fight against the global financial crisis, too."
The country has about $1.95 trillion in foreign exchange reserves, the world's largest. And it has the lion's share of investment in low-risk, low-yield assets such as the US treasury bonds.
The government de-pegged the yuan from the US dollar in July 2005, after which the Chinese currency has risen about 20 percent against the greenback.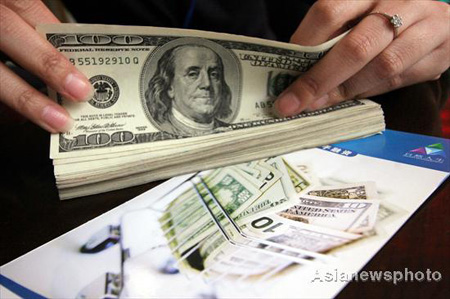 But since the country's economic growth dropped to a seven-year low of 6.8 percent in the fourth quarter of 2008, there has been speculation that the yuan could be devalued to bolster exports.
Officials and economists have, however, warned that such a move could lead to a competition among Asian economies to devalue their currencies, which in turn would harm China's export sector. A weaker yuan could trigger a capital flight, too, they said.
The country's foreign exchange reserves increased by about $280 billion in the first six months of 2008, but its rise was about half of that in the second half. Despite that, the current account surplus for the whole of last year reached $440 billion, up 20 percent from the previous year.
Deng said that though the financial crisis has prompted some foreign firms to pull money out of China in the past few months, the capital outflow was "limited" and not a major cause for concern. The country's foreign exchange assets are generally safe, he said.