Winter is usually not the best of seasons at West Lake, the most attractive scenic spot in Hangzhou, Zhejiang province. West Lake attracts about two million travelers from all over the world each year and supports dozens of people like Gu Liyang, a middle-aged boatman hailing from rural Hangzhou.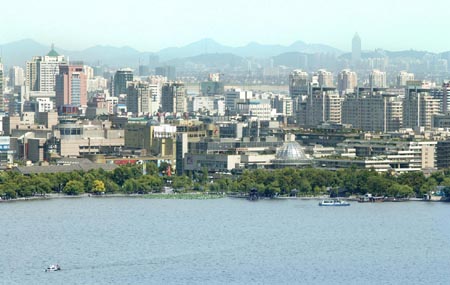 But ever since the global financial crisis took hold from late last year, fewer and fewer foreigners have been using Gu's small pleasure boat for a ride across West Lake.
Related readings:


 Private firms of Zhejiang province face difficulty


SME guarantee business expected to hit $146b in 2009


 Microcredit firms may debut in Zhejiang
"Travelers from the US and Europe have decreased," he said. "These days, there are no travelers even from South Korea," he said. One reason for that is the depreciating South Korean won which has made traveling abroad that much more costly for its citizens.
The number of inbound tourists to Zhejiang was 4 million in the January-September period of 2008, an increase of 7.2 percent year-on-year. The growth rate was 12.5 percentage points lower than during the whole of 2007.
The predicament faced by the tourism industry has been shared by many other sectors. Zhejiang province is China's fourth largest in terms of GDP growth. But of late its exports have suffered a heavy blow from the still deepening global crisis. Although it expanded by 20.3 percent year-on-year in 2008, the growth was 7 percentage points lower than in 2007. In January, its export slumped by 10.7 percent year-on-year, compared with a 5.6 percent growth in December 2008.

In 2008, closures by private enterprises have been the highest during the past six years, according to the latest report by the Zhejiang Industrial and Commercial Administration. The number of newly registered private enterprises has also been the lowest last year.
Its traditionally competitive sectors, such as textiles in Shaoxing, shoemaking in Wenzhou and garments in Ningbo, have suffered heavily due to reduced demand from overseas.
"The biggest uncertainty comes from falling exports due to the worsening global financial crisis," Li Zhihai, head of the provincial development and reform commission, said. Li made the comment before the US agreed on a $789-billion economic stimulus bill.
Zhejiang would face severe challenges this year, analysts said. Its export-oriented private sector, the backbone of its economy, will have to cope with a sharp decrease in foreign demand. "So far, we have not seen the possibility of the world economy recovering from the second half of the year," Li said.
"While most people expect the global crisis to end before 2010, we think things would become worse if the stimulus measures prove ineffective," a report by the Anbound Group, a Beijing-based consulting firm, pointed out.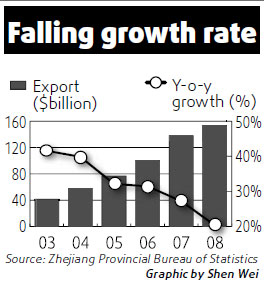 "In 2008, many enterprises could operate at full capacity because they were fulfilling orders received a year earlier," said Zhou Dewen, head of the Small- and Medium-sized Business Association in Wenzhou, the third largest economy in Zhejiang. "But this year, many enterprises would fail to get orders," he predicted.
"2009 would be a hard winter for our economy," he said.
For enterprises, the biggest worry is how to keep cash flowing to get through difficult times. "The majority of enterprises in Zhejiang are SMEs which have limited funds and are in dire need of capital," said Wang Liping, chairman of Zhejiang Guangbo Group, a private stationery products maker. Many banks charge 30-40 percent higher interest rates for SMEs, said Wang, who is also a deputy to the local provincial people's congress. "Taking into account the guarantee cost of about 2 or 3 percent, the cost of borrowing would be even higher."
Many enterprises have thus lost access to capital and gone bankrupt.
Zhejiang, luckily, foresaw much of the problem and took measures to minimize its impact.
"From late 2007, we found that the major indicators of the economy were showing signs of weakening," said Ge Licheng, deputy head of the Zhejiang Academy of Social Sciences. "The commercial costs, including those incurred in land transfer, labor and pollution control, have been on the rise since 2006. These factors squeezed corporate profitability and worsened the situation when the global financial crisis hit," he said.
It is time Zhejiang overhauls its industrial infrastructure to make it technologically advanced, energy-efficient and environmental friendly, Ge said.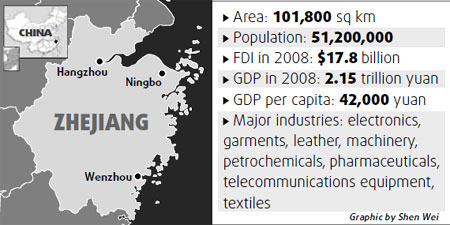 China announced a massive 4-trillion yuan stimulus package on Nov 9. Zhejiang has vowed to follow suit by chipping in 881 billion yuan - nearly the size of its total fixed-asset investment in 2008 - to kickstart 81 major projects.
The province has also set aside a special 500-million yuan fund this year to subsidize the technology upgradation program of local enterprises.
"We will set aside at least 2 billion yuan a year to help enterprises improve their technologies," said Li.
The province will also cut taxes worth 50 billion yuan to help SMEs, he said.
"In times of crisis, it is normal for some enterprises with low technology infrastructure and poor competitiveness to go bust. But, we will encourage those with advanced technologies and environmental policies to develop faster," he said.
Apart from government support, local enterprises are also changing their strategies to survive the crisis. For example, Youngor, a major garment maker in Ningbo, has invested in a number of enterprises across the value chain to reduce costs. As exports to the US and European markets slump, the province is also trying to tap emerging markets.
"This year, we will shift our focus from the US and Europe to the developing economies," said Fu Wentao, deputy head of marketing, China Commodities City Group, the world's largest wholesale market for small consumer goods. Located in Yiwu, it has 62,000 stalls and is an accurate barometer of Zhejiang's total exports.
Although overall demand from overseas markets may decrease due to the financial crisis, demand for small consumer goods may not drop much, said Fu. "The situation may not be that bad for us," he said.
"The Zhejiang economy may help the nation recover," said Zhou of the Wenzhou SME association. "Our enterprises, mostly private, are more flexible and capable of dealing with such crises."