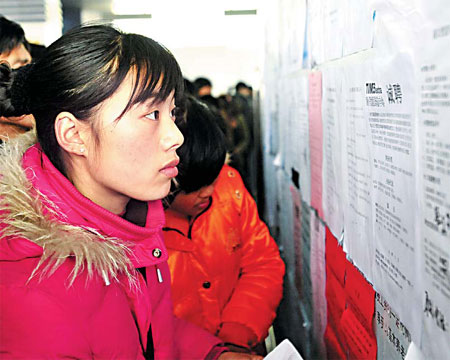 Returning migrants read job information at a local recruitment fair in Suqian county, Jiangsu province in Februrary. [Asianewsphoto]
As millions of jobless migrant workers return to their hometowns, local governments are looking for ways to help them start a new life.
About 7.8 million migrants, or 6 percent of the total, had gone home by the end of last year, according to the National Bureau of Statistics and the Ministry of Agriculture.
Related readings:


 Shanghai mustn't dump migrant labor


 Migrant workers feel job pinch


 20m jobless migrant workers return home


 1 million migrant workers find new jobs in Sichuan
The authorities in northern areas of Jiangsu province hope that returning migrants can rejoin the world of work by starting their own businesses.
To this end, local governments are offering tax incentives, training and other services to help workers become their own bosses.
For example, Donghai county in Lianyungang has granted a three-year tax break to returned migrant workers starting their own businesses, while tax payments for the next five years will be halved.
Wu Jianbin, a returned migrant worker in Taolin town of Donghai, opened a quartz processing factory, making use of the county's rich silicon reserves, creating jobs for 300 workers on an average monthly salary of 1,200 yuan.
Besides secondary industries, agriculture is also an attractive investment for returned workers. In Shanzuokou town, 184 out of the 226 returned migrant workers have established livestock farms.
During the first half of 2008, more than 20,000 migrant workers returned to Donghai county and established 13,000 businesses covering silicon processing, agriculture, building materials and machinery, accounting for 30 percent of the gross output value of Donghai, said Zheng Ping, secretary of the county's Party committee.
In Xuyi county of Huai'an, Liu Qihua opened an aluminum door and window frame workshop, making the most of the skills he picked up as a migrant worker.
His current monthly income exceeds 3,000 yuan, twice his previous earnings. So far, more than 1,570 migrant workers have returned to Xuyi and started their own businesses just like Liu.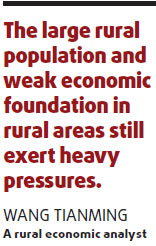 In Qingong county of the same city, 90 percent of the 40 local companies were established by returned migrant workers. During the first 10 months of 2008, 10 more chicken farms opened, all set up by former migrants, said county official Zhu Hongzao.
Besides offering aid to help returned migrants set up their own businesses, local governments are also organizing recruitment fairs.
Donghai county organized a fair in December 2008 especially for returned migrant workers, providing more than 2,100 job opportunities. On the first day, 6,000 visitors rushed in and 1,263 were hired by 22 companies, nine of which were established by former migrants.
Zhu Wenbo, a former farmer in Baitabu town of Donghai who now runs a mining machinery factory, said he hired more than 30 workers at the fair.
Training is also playing an important role in local governments' efforts to help returned migrants find work.
Since October last year, the city of Huaian has organized training in skills such as electronics and sewing to help meet demand from local firms. The courses have already helped 11,000 returnees find new jobs, among which 9,000 are employed in local secondary industries and 2,000 in agriculture.
In addition, Suqian put forward a policy to offer subsidies to firms that offer training to employees.
Donghai has also built a training network consisting of vocational schools in the county, training centers in towns and training schools in villages, said Lu Jin, director of the local labor and social security bureau.
"The large rural population and weak economic foundation in rural areas still exert heavy pressure," said Wang Tianming, a rural economic analyst.
"However, measures such as those taken by the local government in Donghai to encourage private businesses and offer aid are a step in the right direction."