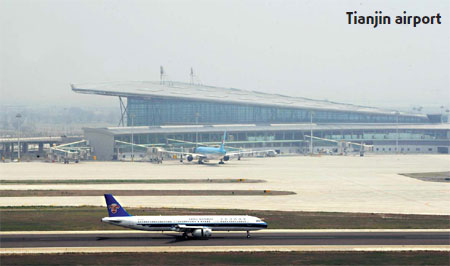 This year is expected to be a difficult one for most logistics businesses in the crisis-stricken economy. But against such a backdrop, Tianjin Binhai International Airport (TBIA) is confident of not only conquering economic challenges, but also achieving further development.
The economic downturn has mostly affected international air cargo and passenger transportation in Tianjin, leaving the domestic sector in better shape. The municipal airport plans to further stimulate internal demand by expanding cargo and passenger capacity this year, TBIA President Shao Dengxiang told China Business Weekly.
Related readings:


 Tianjin to lure new airlines to increase traffic


 AVIC joins hands with Tianjin for helicopters


 Boeing ups Tianjin project capacity
"In 2009, we aim to expand our cargo transportation volume by 30 percent to 240,000 tons while increasing the passenger transportation volume by 35 percent to 6 million people," Shao added.
TBIA expects to meet these growth targets this year by introducing more domestic airlines and cargo firms.
China Cargo Airlines has inked a deal with TBIA to operate in Tianjin this year which is expected to increase the airport's cargo capacity by 30 to 40 percent, according to Shao.
In addition, TBIA will invite more airlines to set up bases in Tianjin. China Eastern Airlines and China Southern Airlines are to set up bases in Tianjin, which will enable TBIA to gain new development momentum by tapping new markets.
With more cargo airlines coming to the airport, TBIA is set to increase its cargo handling capacity. TBIA currently has three warehouses for cargo transportation and ranks 11th in China in terms of cargo capacity.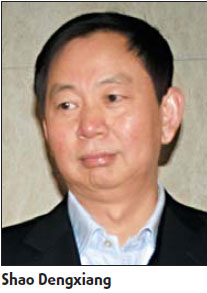 Shao said that work is underway on another warehouse. Once the expansion is completed, TBIA will have an additional cargo transportation capacity of 50,000 tons per year. The move corresponds with the Tianjin municipal government's goal to make Tianjin northern China's aviation logistics center.
In two to three years, TBIA may squeeze its way into China's top five in terms of cargo transportation capacity, Shao said.
TBIA's cargo transport volume increased 35 percent to 180,000 tons in 2008, meeting its target. Passenger volume was up 20 percent to around 4.4 million in 2008, falling short of the originally expected 30 to 40 percent.
But TBIA's facts and figures for January this year are rather worrying, with cargo and passenger volume both dropping year-on-year.
"There are many reasons for the drop in business last month. The global economic crisis is one of them, affecting our internationally oriented cargo and passenger business. We expect a rebound because of our efforts to drive domestic demand," Shao said.
In addition to bringing in more cargo and passenger airlines, another move that goes hand in hand with capacity growth is the building of TBIA as a large regional "portal hub".
"Along with attracting more airlines to TBIA, we will push for more routes to more destinations from airlines already based at our airport," Shao added.
This move is designed to counteract the negative impact of the global economic crisis on the logistics business.
A new route from Tianjin to the United States is under consideration. A US airline may operate on this route, Shao said.
Another new route connecting Tianjin and Kuala Lumpur in Malaysia may be launched next month by budget carrier AirAsia.
It is estimated that by 2010, the Tianjin airport will have more than 100 domestic and international routes. The domestic routes will cover all provincial capitals, municipalities and major tourist destinations.
There will be fast international routes to South Korea and Japan. In two years, tourist routes to Singapore, Thailand, Malaysia, India, America and European countries will be launched.
According to Shao, TBIA's second runway, which is customized to serve Airbus A320s, is under construction. Construction of the primary runway and taxiway has been finished and the whole project will be completed before April. It will become operational on May 1.
Other moves to improve support facilities include a direct shuttle bus link between Tianjin Railway Station and TBIA.
The airport will also step up efforts to enhance its employees' professional skills and improve its services with the establishment of new airline company bases and new facilities.
Located in the center of the Bohai Bay region - regarded as China's third economic growth engine - Tianjin enjoys preferential central government policies.
In accordance with the central government's goal of turning Tianjin into northern China's economic and logistics center, TBIA hopes to become northern China's aviation logistics center and portal hub.
In 2008, TBIA enjoyed new development opportunities thanks to the Beijing Olympics and the Summer Davos forum. In July 2008, passenger volume increased by 19.4 percent compared with the same period of last year, reaching a monthly record of 413,000 person-times. At the same time, the cargo and mail volume increased 80.7 percent year-on-year, exceeding 18,000 tons.