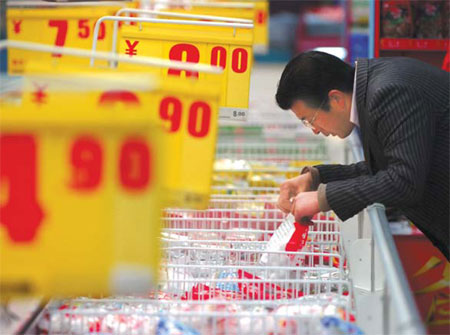 While economists say China is likely to be the first to recover from the current economic downturn, when that recovery will come is still an open question.
Related readings:


 CPI sign of economic 'recovery'


 China's CPI rises 5.9% in 2008


 PPI falls to 2-year low in China


 Macao's inflation rate drops to 6.16% in Dec
The nation's economic growth weakened to 6.8 percent year-on-year in the fourth quarter last year, from 11.2 percent in the last quarter of 2007. As most of China's major trading partners, including the US and Europe, are predicted to further lose steam in 2009, some analysts see the national economy suffering by 2010 due to weakening overseas demand.
"The current adjustment could take as long as three years," said Wang Xiaoguang, a researcher with the National Development and Reform Commission. 
"It is not only a result of external impact, but also a turning point of China's own economic growth cycle," Wang said.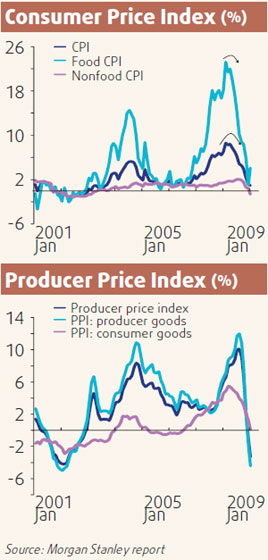 The nation's growth started to pick up in 2002, after a five-year recession triggered by the Asia financial crisis. Over the past five years, it maintained an average growth rate of over 10 percent and topped 13 percent in 2008.
Zhuang Jian, an economist with Asian Development Bank, said the economic situation is even harsher for China in 2009 compared with a year ago.
He expects sluggish demand in the advanced economies may drag down China's economic growth by 1 percentage point.
Others, however, say the latest economic indicators show that the economy is already on the track of recovery.
According to Gao Shanwen, chief economist with Essence Securities, the January figures of consumer price index and producer price index released yesterday reflect the growing strength of the economy.
"Recent economic indicators show the worst time has just passed, despite many uncertainties ahead," Gao said.
Annualized consumer inflation dropped to 1 percent in January, the lowest in 30 years. However, consumer prices gained by 0.9 percent from last December, which some analysts say indicates stronger demand.
Meanwhile, it's reported that the nation's loan growth hit a record high in January, thanks to policymakers' decision to relax lending curbs to prop up the economy.
The nation's lenders extended about 1.6 trillion yuan in new loans in January, about one-third of China's new lending for all of 2008, according to Reuters.
"Continued surge in bank lending will help the strong rebound in activity in the coming months from a low level, but the level of activity is unlikely to return to the height of 2008," said Wang Tao, an economist with UBS Securities.