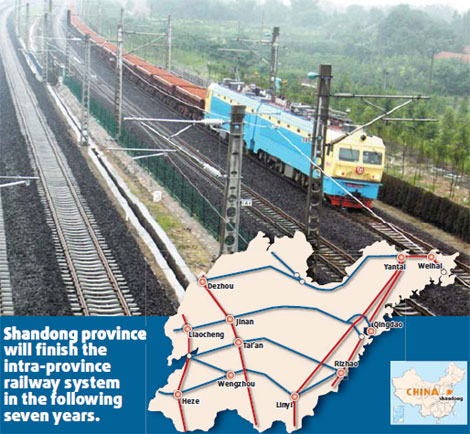 With 24 ports, Shandong province is long famous as an export-driven hub, fueling the business relationship between the inland regions of China and Asia-Pacific countries such as Japan and South Korea.
Related readings:


 Agriculture: Shandong's aquatic product export down 3.6% in 2008


 Shandong sees decline in exports of aquatic products


 Shandong bans poultry breeding to contain bird flu


 Shandong Gold to buy 74% stake in Chifeng
But a rejuvenation of the economic power of Shandong province is coming.
Recently, the local government announced a Seven-Year Plan to build a high-speed intra-province railway system of 14 railroads connecting 17 cities in the province, including Qingdao, Yantai, Jinan, Rizhao, Linyi and Weihai.
In Shandong's railway construction blueprint, it will build and rebuild 3,800 kilometers of railways in the coming seven years, including 2,200 kilometers of newly built railways and 1,600 kilometers of double-track railways and renovated electrified railways.
Upon completion, it will form a "One-hour Living Circle" across the province, Fei Yunliang, director of Shandong Development and Reform Commission, was quoted as saying by the 21st Century Business Herald.
Passengers shuttling between western Shandong's Jinan city and eastern Shandong's Yantai city will only use one and a half hours, six and a half hours shorter than the previous 8-hour journey.
The Shandong railway project is part of the 4-trillion-yuan economic stimulus package the central government announced last November; a massive infrastructure construction project especially for railways and other transit systems, an official from the Ministry of Railways of Shandong province said.
A modern transit system has been needed in Shandong province for a long time, Jiang Daming, governor of Shandong province, said recently.
According to Jiang, the limited local railway system has greatly affected the transportation volume in Shandong province and posed a huge burden for the highway transportation system.
Take Yantai city as an example - statistics from local government, in 2008, say that highways shouldered over 80 percent of Yantai's cargo transportation volume and 94 percent of its passenger transportation volume.
However, "in 2015, we aim to double our cargo transportation volume to 300 million tons while increasing the passenger transportation volume by 90 percent to 100 million people," Fei told China Business Weekly.
"The project will upgrade the region's railroad network, combining Shandong's economic development into the Binhai New Area, Pearl River Delta and Yangtze River Delta. And, it will be connected with numerous cities in western China, better showing its power as an important transportation hub," said Fei.
The improvement of intra-province railway system will help Shandong by boosting over 87 billion yuan in market demand in the future, Governor Jiang said.
Shandong, as one of east China's major heavy industry bases, is a good base for the manufacturing industry, such as steel, machinery, petrochemical and automotive. Jiang said the planned intra-province transportation network will strengthen local industrial sectors and create more high-value jobs for local residents.
Jiang estimated that railway construction will generate over 57 billion yuan of market demand for raw materials and a 30 billion yuan demand in the manufacturing sector in Shandong.
Local manufacturing companies, such as steel-makers Jigang Group and Laigang Group, will greatly benefit from the project, said Fei.
However, there is no doubt that it also poses a huge challenge especially the requirement of a total 150 billion yuan for the Seven-year Plan.
"Besides the 70 percent investment collected from the Ministry of Railways (105 billion yuan), there are still hundreds of billion yuan of the investment that need to be collected locally," Fei said.
So late last year, a Shandong Railway Construction Investment Corporation was inaugurated in Jinan, capital city of Shandong.
In the next seven years, the new company will participate in investment, construction and management of railway projects.
The company will seek capital from privately owned companies, according to another senior official from local development and reform commission who requested anonymity.
Among the 14 upcoming railway construction projects, the railway between west Shandong's Liao city to central Shandong's Tai'an city, will wholly be operated by investments from private capital.