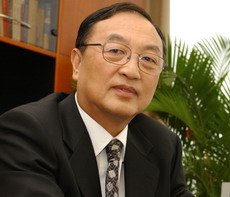 Liu Chuanzhi [file photo]
Liu Chuanzhi, founder of China's leading computer maker Lenovo Group, has been reinstated as company chairman, the group announced Thursday after revealing a fourth quarter loss of $97 million.
A company statement said Liu, a non-executive director, has been appointed as non-executive chairman.
The announcement said he would also serve as chairman of both the strategy and governance committees.
Liu, who had been an executive director from 1994 and chairman until he became a non-executive director in April 2005, said he was "pleased to return to my role as chairman."
"At this important time, we want to pay particular attention to our China business as it represents the foundation of our global business and growth strategy," he said.
The statement said William Amelio had resigned as an executive director, president and chief executive officer, while senior vice president Rory Read takes over as president and chief operating officer.
The statement said Yang Yuanqing, who served as chief executive officer from 2001 to 2004, would return to the role.
Yang promised changes to the company's marketing and organization to make it more efficient and competitive.
"In the past quarter, same as many other companies, Lenovo was deeply impacted by the global economic turmoil," said Yang.
"We have taken actions to ensure that in an uncertain economy, our business operates as efficiently and effectively as possible, and continues to grow in the future."
The board changes coincided with the company's undesirable performance over the past months.
According to the company's third fiscal quarter financial report, Lenovo's worldwide PC shipments declined 5 percent year on year, due to a sustained decrease in worldwide commercial PC sales particularly at the high end, and a 7-percent decline in the China PC market.
Consolidated sales for the quarter from continuing operations (excluding divested businesses) fell 20 percent year on year to $3.59 billion.
Its gross profit decreased 48 percent, with gross margin at 9.8 percent.
Lenovo, the world's fourth largest personal computer manufacturer, announced in January it would cut 2,500 jobs, about 11 percent of its global workforce.