A severe drought continued to hit several regions in the country Wednesday, leaving at least 3.7 million people short of water and endangering crop yields of at least seven major grain-producing provinces, the authorities said Wednesday.
The dry spell since November has affected at least 9.53 million hectares of farmland, or 43 percent of the country's winter wheat supplies, the Ministry of Agriculture (MOA) said in an online update on the drought Wednesday.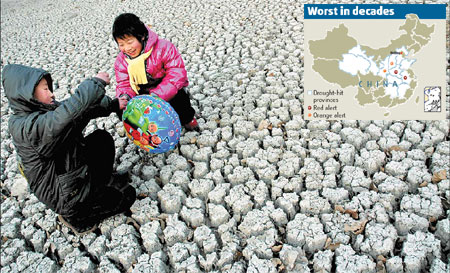 Children play on a dried up pond in Tangyin county, Henan province, on Tuesday. The province has been hit by its most severe drought since 1951, with no rain for more than 100 days. [China Daily]
The drought-hit area, which is still rising, has increased more than a hundredfold from what was experienced last year, the ministry said.
The dry weather has also resulted in water shortages for 1.85 million heads of livestock, it said.
The situation is expected to continue as no rain has been forecast for the next 10 days in the affected regions, meteorological agencies said.
"The duration, scope and impact of the drought are rare," said Zheng Guoguang, chief of the China Meteorological Administration.
The drought has hit more than 60 percent of the wheat crop in Henan and Anhui provinces. Henan, a major supplier of winter wheat, saw 105 consecutive days without rain as of yesterday.
The crop accounts for about 18 percent of the country's total annual grain output.
Meteorological authorities in Henan have called the drought its worst since 1951. About 3.3 million hectares of farmland in Henan used for wheat, or 63 percent of its total area used to grow the crop, have been affected by the drought. At least 130,000 people are also suffering water shortages, local authorities said.
"A conservative estimate would place drought impact on the main wheat-producing regions at 2 to 5 percent (of annual output)," said Ma Wenfeng, a Beijing-based agriculture analyst.
Related readings:


 Severe drought continues in N China


 More drought relief needed in provinces


 Drought threatens China wheat production


 Henan warns against severe droughts


 Prolonged drought hits parts of north, east China
"The severest-hit regions of Henan and Anhui will see their wheat harvest down by about 20 percent," Ma said.
The MOA raised its drought alert to level one on Tuesday, days after Henan and Anhui issued their first red alerts - the highest level - for the harsh weather.
Shanxi province, where no effective rainfall has been reported for the past 100 days and where 1.06 million people and 190,000 heads of livestock are facing water shortages, has also been on high alert for drought since Tuesday.
Similarly, neighboring Shaanxi province raised its drought alert on the same day. Provinces such as Shandong, Hebei, Gansu, Jiangsu and certain regions in Hubei and Hunan are also suffering from severe drought. In many regions, rainfall this winter has been more than 70 percent below average, the MOA said.
Beijing has also had more than 100 days without rainfall, a situation not seen in 38 years, the authorities said.
President Hu Jintao, Premier Wen Jiabao, and vice-premiers Li Keqiang and Hui Liangyu have each ordered the relevant departments to step up support for the affected provinces to ensure the summer harvest.
Tens of thousands of people have been mobilized in each drought-affected province for relief work, the authorities said.
Different localities in Henan have also drafted temporary policies to subsidize farmers who irrigate the dry fields.
As a result, about 40 percent of the affected crops had already been irrigated as of Tuesday, the MOA statement said.
The Ministry of Finance has also allocated 100 million yuan ($14.6 million) in emergency funding to help ease the drought.
However, experts said the country's crop supplies remain secure.