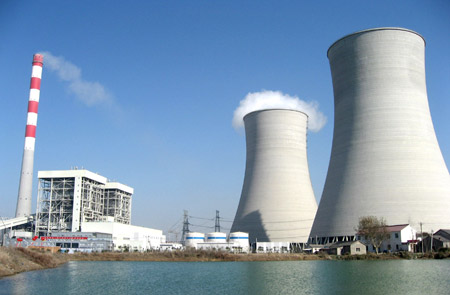 The first power project that China Huaneng Group invested in Anhui province starts generating electricity, Dec 9, 2008. The country's power demand is expected to pick up in the 3rd quarter of 2009.[Xinhua]
The country's power demand, a barometer of its economy, will continue to fall in the first half of this year before picking up in the third quarter, according to an industry association.
"Power demand is likely to see a continuous decline in the first half. The first two quarters will be the most difficult time for the industry," China Electricity Council (CEC) forecast Wednesday.
From the end of the second quarter, power demand may start to increase, compared with last year, in north and east China as well as the southern coastal regions. That should in turn drive up demand in the central and western regions in the fourth quarter, it said.
The sharp decline in power consumption from high electricity consuming industries is the main reason behind the declining demand for power, senior CEC executive Xue Jing said.
"In the fourth quarter of last year, power consumption from the chemicals, building materials and metals sectors all experienced negative growth."
In the first half of 2008, growth in power demand was high, making it difficult for the growth rate in 2009 to be outstanding, Xue added.
Overall, China's power consumption will grow by 5 percent in 2009, according to the CEC.
Related readings:


China can be 1st to 'recover'


IMF: Asia to recover in 2010


China's economy able to recover from slowdown


Nuke power capacity set to increase
"Such a growth in power can supply the need for 8 percent growth in GDP," CEC's secretary-general Wang Yonggan said.
Since last October, China's power generation fell for three consecutive months compared with the corresponding period in the previous year, indicating a slowdown in industrial activities nationwide.
China's power generation has become an important indicator of the vitality of its economy in the past few years, because so much of the country's growth relies on power-intensive industries such as steel, aluminum and chemicals.
Some analysts even said the country's power demand would begin to recover as early as the second quarter.
"The manufacturing industry has seen some recovery, that will ensure the power demand to increase in the second quarter," said Dong Xian'an, macroeconomic analyst of China Southwest Securities.
The Purchasing Managers' Index (PMI) of China's manufacturing sector rose to 45.3 percent in January, from 41.2 percent in December and a record low of 38.8 percent in November, according to the China Federation of Logistics and Purchasing yesterday.
The improved data fueled hopes that an economic decline might be bottoming out following a series of government policies.
Some experts suggest China's GDP growth will be V-shaped in 2009, with the bottom already being reached in the fourth quarter of 2008.