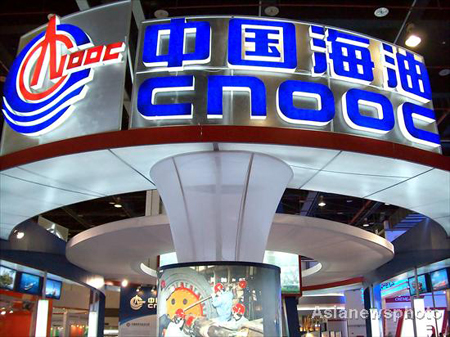 A CNOOC booth at a chemical industry exhibition in Shanghai on May 23, 2007. [Asianewsphoto] 
China's top offshore oil and gas producer CNOOC Ltd plans to lift its 2009 crude and gas production by 16 percent to 18 percent, as some significant projects are expected to come online this year.
Total production will be 225 million to 231 million barrels of oil equivalent (BOE), compared with the estimated production of 194 million to 196 million BOE for 2008, the Beijing-based company said in a statement on Tuesday.
Related readings:


 CNOOC energy base in Tianjin


 CNOOC sets up new energy base in Tianjin


 CNOOC's $29b project approved


 CNOOC spending 200b yuan to tap deposits
The company, which is the listed arm of China National Offshore Oil Corp (CNOOC), said 10 new projects are expected to come on stream this year, eight in offshore China, one in Nigeria and one in Indonesia.
In 2009, the company's total capital expenditure is expected to reach $6.76 billion, an increase of 19 percent year-on-year.
"The company will continue to exercise its stringent cost control," said Yang Hua, executive vice-president and CFO of CNOOC Ltd. Sources with the company on Tuesday said the growing exploration charge pushed its 2008 cost higher than 2007's $16.37 per barrel.
However, the company on Tuesday declined to comment on earlier media reports that it is considering shutting down some wells to reduce losses.
CNOOC earlier said it would invest 200 billion yuan on oil and gas exploration in the South China Sea in the next 10 to 20 years and build up a production capacity with an annual output of 50 million tons, equivalent to that of China's biggest oil field, the Daqing Oil Field.
Jiang Yongzhi, assistant chief financial officer of CNOOC Ltd, said on Tuesday the company has been actively seeking overseas acquisition opportunities over the last year but "no one would sell" amid the global recession.