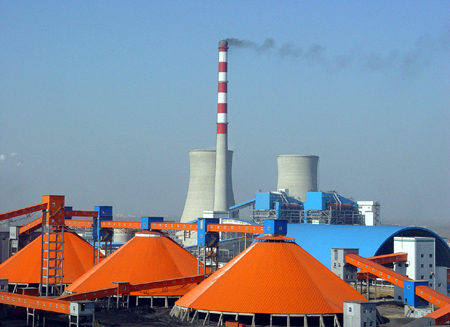 A thermal power station in Anhui province. The country is expected to turn the financial crisis into an opportunity to promote a low carbon economy. [China Daily]
The country's environmental watchdog said it would continue to keep a close watch for the return of energy-intensive and heavy-polluting firms.
At the national conference on environmental protection held in Beijing last week, Minister of Environmental Protection Zhou Shengxian told his staff to strengthen inspections for heavy-polluting companies.
Zhou warned that there are signs that the smog belchers "will stage a comeback" in some areas, and factories with backward facilities "would revive", using the excuse of the country's massive investment plan to boost domestic demand.
The country also needs to be alert to the risk of increased pollution during the economic downturn, as firms running at a loss could suspend the operation of pollution-treatment facilities to reduce costs, Zhou said.
Since the central government announced the 4-trillion-yuan economic stimulus package last November, local governments have been embracing the investment opportunity in attempts to maintain stable economic growth.
Within the last two months after completing environmental reviews, the Ministry of Environmental Protection (MEP) has approved 153 projects around the country, with investments totaling 470 billion yuan.
Related readings:


 Pollution problem serious: Survey


 Over 80% of China's sea areas suffer from pollution


 China punishes 15,000 firms over pollution in 2008


 Ministry to monitor pollution
Among the projects cleared 31 are involved in infrastructure development, such as transportation and water conservation, totaling 139.3 billion yuan.
But 11 projects were rejected on environmental grounds.
Involving a total budget of 43.8 billion yuan, the rejected projects were mostly coal-fired power plants or resource-intensive coal chemical plants, according to MEP.
"Revival of energy wasting polluting industries would ruin the country's progress made on pollution reduction," Zhou said.
China routinely conducts environmental impact evaluations of single projects, such as road construction.
According to China's Environment Impact Assessment Law, which took effect in 2003, an environmental review report, which identified a project's potential impact to the environment also proposes measurements to mitigate them, should be finished and be approved before construction starts.
Both economists and environmentalists at a recent forum held in Tsinghua University said that China could no longer afford the unsustainable economic development model.
For the past 30 years, China has managed to maintain a high economic growth rate at the expense of its environment.
"The globalization has left China in an awkward situation, which enjoys a trade surplus, but meanwhile an ecological deficit," Ren Yong, deputy director of MEP's policy research center for environment and economy, said.
Although the economic slowdown has to some extent contributed to the drop in major pollution sources, some have voiced their concerns that the financial crisis may pose more challenges in China's attempts to clean its environment.
Qi Ye, director of institute of public policy at Tsinghua University, said that the central government's efforts might fail in areas where local governments still put GDP growth as top priority.
"Local governments need to take deliberate action to make investment plans, rather than rash decisions," Qi said, "so that the money spent can generate real benefits."
Scholar Song Ligang, from Crawford School of Economics and Government, said that the economic imbalance between different regions adds difficulties for Chinese decision-makers to address environmental problems.
Song said that China could not afford to follow the "Kuznets curve model", which suggests that environmental protection is only achieved after a sustained process of economic development.
Song proposed that the country should provide incentives for local governments encouraging them to pay more attention to the public welfare, such as environment protection, rather than GDP growth.
Wu Changhua, greater China director of the London-based Climate Group, however showed more confidence, saying that the country will grasp the financial crisis as an opportunity to promote a low carbon economy.
"The central government's attitude is clear and straight, something which will definitely influence the local governors," Wu told China Business Weekly.
"Not only are the energy-intensive and polluting industries banned from the 4-trillion-yuan package, the newly unveiled auto and steel industry stimulus plan also focuses on the green car sector," Wu said.
Last week, the State Council announced the auto industry bailout plan, which halved the sales tax on vehicles with engines of less than 1.6 liters.
The government also said it will strictly control the increase in the country's steel-making capacity and continue closing down low-tech mills, while encouraging the restructuring of steel-makers and cultivate competitive large-scale steel groups.