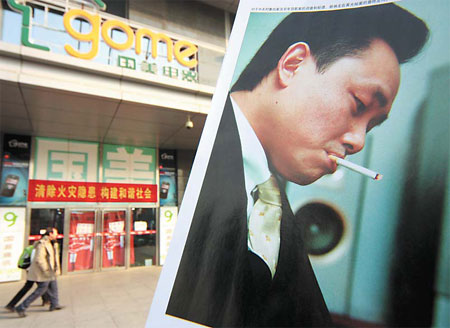 A Chinese newspaper carries a photo of Huang Guangyu, former chairman of Gome, in December 2008. [China Daily]
Huang Guangyu, China's home appliance tycoon, has resigned as a director of Gome Electrical Appliances, the company said in a notice to the Hong Kong Exchanges late Sunday.
Huang also ceased to be chairman of the group, effective on Jan 16, according to the notice.
Related readings:


 Sanlian sues Gome for 50m yuan


 Suning looks to dethrone Gome


 Gome chief's wife detained


 Appliance retailer Gome suspends chairman Huang
Huang's resignation was a result of his "inability to perform his duties as a director of the company," it said, and the resignation would not materially affect the business and operations of the group.
According to the notice, Chen Xiao was appointed chairman and chief executive officer of the group, effective from Jan 16. Chen was appointed as the acting chairman of the group on Nov 27 last year.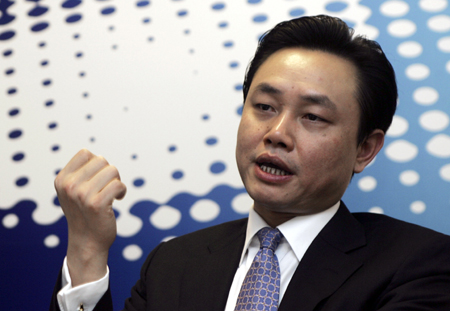 Huang Guangyu, China's home appliance tycoon, speaks during an interview in Beijing in this Sept 7, 2006 file photo. [Agencies]
Huang, a self-made billionaire, was detained on Nov 24 on claims that he had manipulated share trading in two listed companies, Sanlian Commercial Co and Beijing Centergate Technologies Co. His company, the Hong Kong-listed Gome Electrical Appliances Holdings Ltd, has been suspended from trading since Nov 24.
His wife, Du Juan, was also under investigation for alleged involvement in economic crimes, Beijing police confirmed last week.