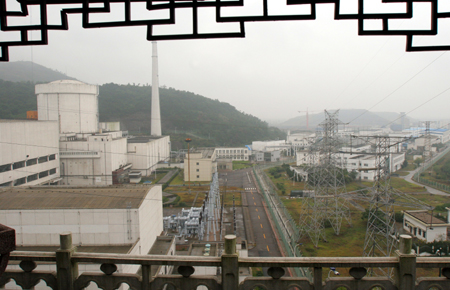 An overview of Qinshan nuclear power plant in Zhejiang province. This was China's first nuclear power station. [China Daily]
China National Nuclear Corp (CNNC) said it expected to start construction of three nuclear power plants with a total of five reactors in 2009.
CNNC, the country's largest nuclear power company, will start construction of the Sanmen nuclear power plant in Zhejiang in March. The project will have two 1,250-megawatt reactors, said a source with the company.
The company will start building another nuclear power plant in Haiyang, Shandong province, at the end of September, said the source, who declined to be named.
Both plants will use AP1000 technology from US-based Westinghouse. China in 2007 signed an agreement with Westinghouse for use of the third-generation nuclear technology.
Related readings:


 Nuke plant under way in Zhejiang


 Hainan to construct nuclear power plant


 China develops nuclear power plant training simulator


 Nuclear power station starts operation
CNNC is expected to start construction of an inland nuclear plant, the Taohuajiang nuclear power project, within the year, said the source. The project would be among the first batch of China's inland nuclear power projects.
China's top economic planning body, the National Development and Reform Commission has approved preparation work for the Taohuajiang project, according to CNNC.
As one of China's two main nuclear power plant builders, revenues of CNNC's main business in 2008 were 36.6 billion yuan, an increase of 39 percent from a year earlier. The company's profit was 4.8 billion yuan, an increase of 85 percent from 2007.
The company produced 37.9 billion kilowatts of electricity in 2008.
Last year, CNNC made improvements in its other nuclear projects in Zhejiang, Guangdong, Shandong, Fujian, Anhui, Liaoning, Gansu and Henan.
China plans to increase its nuclear power capacity to 40 gigawatts by 2020, which would account for 4 percent of the nation's power capacity.
However, in line with the boom in the industry, industry insiders said that the 40-gigawatts plan would be elevated.
China now has a total of 11 nuclear reactors in operation, with a combined capacity of 9,080 megawatts.