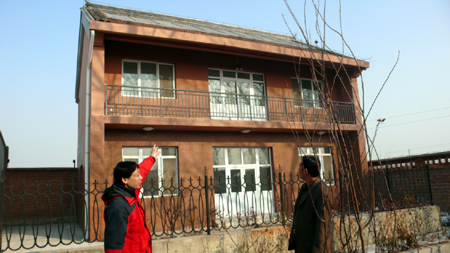 The award-winning architect Zhang Yue (left) explains the green demonstration house. [China Daily]
At first glance, Wuxiongsi Village in suburban Shunyi district of Beijing is still a typical rural community in northern China.
About 400 one-floor households live in walled-yards arranged door-by-door in a concentrated open area. Roughly one-hour-drive from downtown Beijing, the residential blocks are linked by narrow pavements.
But some households have locked their doors for years after the owners moved to other towns or downtown Beijing.
A villager Liu Yayin, in her 50s, says the exit has had a plus side, however. "Put simply, the village is cleaner, much more pleasing and comfortable than before," said Liu with pride. "But several years ago, it stunk to high heaven."
Liu's earlier complaints came because there was no sewage drainage system in the village and several blocks of households shared a public toilet and cattle were kept next to the residence of every family before 2006.
But now, every family is equipped with septic tanks and trash bins. A complete drainage system has been installed and all the pollutants and waste water are channeled to an artificial wetland, where degradable plants treat the sewage.
Behind the environmental and residential progress are two architects. One is Zhang Yue, associate professor with Tsinghua University, who has been long interested in village renewal and rural architectural culture. And the other is Ni Feng, officer of Beijing Municipal Commission of Urban Planning who has been sent to Shifang, Sichuan province to join in the post-quake recovery efforts.
"Through public participation the villagers and we have been taught by each other to seek what is comfortable and sustainable in the village step-by-step," says Zhang. "We have finished the infrastructure and it works well."
Even though only a small part of Zhang and Ni's blueprint has turned into reality, the Wuxiongsi village stood out in November in a competition conducted by the Swiss-based Holcim Foundation for Sustainable Construction to promote sustainable responses from the building and construction industry to technological, environmental, socioeconomic and cultural issues.
Zhang and Ni's planning for the village won the $100,000 Gold Award in Asia Pacific area and they will know by the first half of this year if they will win the global award competing against 5,000 projects from 90 countries.
The jury also said that Zhang and Ni's comprehensive urban planning strategy improved logistics, public utilities and services while meeting stringent ecological and energy-saving targets for new buildings.
Jury head and acclaimed Indian architect Ashok B Lall praised the detailed approach to challenges of pollution, urban sprawl, loss of agricultural land and limited resources.
"The project has a high potential to become a role model for the sustainable development of rural communities and urban districts in emerging economies experiencing rapid change," he said.
Zhang, however, isn't basking in the praise and said, "More tough tasks are still ahead to renew the whole village and fulfill the whole plan."
Zhang and Ni also have another project in mind. "We are planning to use part of the award income to support a sustainable village design in Sichuan," Zhang said, adding he will be spending the Spring Festival break on a feasibility study in Shifang, where Ni works as deputy mayor in charge of urban and rural construction.
Pressing task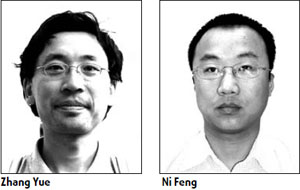 For Zhang, the improved infrastructure, sewage treatment and drainage system was only a tiny part of a sustainable village. "Many elements can enrich the ideas of an eco-village," said Zhang.
First of all, land space and use is vital. Currently, all of the households are living in one-floor yards. "If they rise to two-floor buildings, at least half of the potential construction land can be saved for other commercial purposes," said Zhang. "The wallets of the villagers will be fattened if this comes true."
For individual household design, Zhang plans to implement an eco-strategy. The local agricultural straw waste is enormous and it will be processed to become biodegradable exterior insulation material, instead of being burned and causing air pollution.
In his plan, solar panels and methane pools will be equipped for every household. In addition, a rainwater collection facility is also on the design blueprint.
To demonstrate the plan's feasibility, Zhang, with the help of the Ni's urban planning commission, has constructed a two-story house with solar panels, insulation element, water collection pools and even a garage. It costs about 200,000 yuan.
The villagers say the demonstration eco-house is a brilliant experiment. Liu Yayin, now living with her husband in a spacious seven-room house after their son moved to urban Beijing said: "If I have the chance to build my house again, I will definitely follow the professor's idea to make the building more compact."
It's hard though to persuade the whole village to rebuild their homes as eco-homes. "If the eco-ideas came earlier, the village would have become greener," said village head Zhou Lianbao.
That doesn't disappoint Zhang, who has offered a menu of demonstration houses for families of various sizes. In his mind, a micro-spreading renewal plan is becoming mature. "We can do that block-by-block but the moves and changes will be strictly at the residents' will and will be encouraged by government's subsidies," he says.
"In this way, the social fabric is basically maintained in its original physical pattern," said Zhang. "Eco-strategy will not conflict with neighborhood relationships."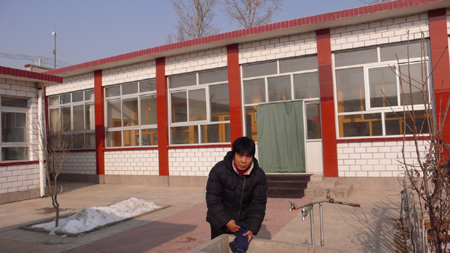 Farmer Liu Yayin does homework in her traditional one-floor house in Shunyi district of Beijing. [China Daily]