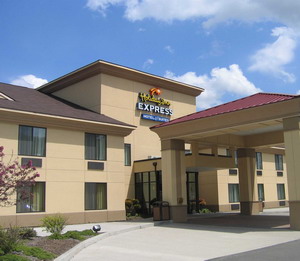 Like winter sweet flowers that bloom in the snow, mid-scale hotels blossom in the global economic chill that is giving a cold shoulder to even the most illustrious five-star establishments.
Holiday Inn Express, a mid-scale hotel unit of InterContinental Hotels Group (IHG), the world's largest by number of rooms, is one of the bloomers. Tyrone Tang, area general manager of Holiday Inn Express hotels in Beijing, said all five Holiday Inn Express hotels in Beijing "did well in 2008".
Encouraged by those results, the company plans to open two more hotels in Beijing 2009. "The economic downturn has brought good opportunity for my hotels because many corporations are cutting back on expenses, and executive travel is the first to come under the knife," Tang said.
The business model of Holiday Inn Express calls for foregoing such five-star amenities as big swimming pools, fancy grill rooms and pampering SPA service. Other than that, "Our service and room facilities are comparable to many other first-class hotels," Tang said. "But our room rates are significantly lower."
A night's stay at a four- or five-star hotel can set one back more than 1,500 yuan ($219). But a night's stay at Holiday Inn Express can be had for less than 500 yuan.
Places like Holiday Inn Express target customers who are turned off by the high cost of luxury hotels, but are loath to put up with the indifferent service and sub-par rooms of the more modest establishments.
"We want to attract more customers, especially the young executives, by creating a relaxed environment in our hotels," Tang said.
"It's all in the detail," he added. Instead of the usual black suits, all front desk staff at Holiday Inn Express hotels wear orange T-shirts to drive home the chain's young and energetic image.
Citing surveys, Peter Gowers, chief executive of IHG Asia Pacific, said the average age of IHG hotel customers in China is 35, compared with worldwide averages ranging from 35 to 45. "That's why we are focusing on China in next generation customers," Gowers said. "Young Chinese customers are the most demanding in the world," he added.
"In our hotels we encourage our staff to actually talk to our customers. Every staff member has a little card in the pocket, saying 'we should really appreciate our guests, we care to make people a home away from home'," Gowers said.
"The average age of all general managers at Holiday Inn Express is nearly 10 years younger than the group's average," said Gowers, who is 37. "It's not much about being young or old, the most important thing is having the right skills and experience" he said.