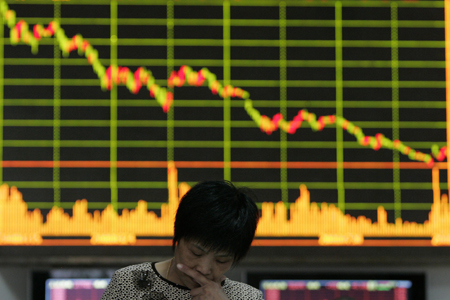 A woman reads information on a electronic screen at a brokerage house in Shanghai October 7, 2008. [Agencies]
Wen Wu, a government employee of Loudi in Central China's Hunan province, has lost nearly all of his 240,000 yuan savings in the stock market. He now has just 7,000 yuan left in his account.
Welcome to the club of growing millions who have seen their hard-earned savings vanish into thin air in the market meltdown.
A recent survey by the official Shanghai Securities News and Stock Star showed that over 60 percent of the 25,110 respondents had lost nearly 70 percent of the money they invested in the Chinese stock market. Only 6 percent of the respondents said they had made money in the past year.
The survey also showed that more than half the respondents said they were "fully" invested in equities while 30 percent said they had kept on buying in the past several months in the false belief that the market had bottomed out.
"We kept hearing from analysts and economists about an impending market rebound," said Fang Yu, a retiree in her mid-50s. So, she decided to top up when the leading indicator sank to 3,000 points. It has since dropped all the way to below 2,000. "I guess I was too naive," Fang said.
"Individual investors, unlike professional institutional investors, prefer to purchase concept sectors and high-risky cyclical sectors, such as energy and metals, which coincidently have the largest drops this year," said Wu Feng, an analyst at TX Investment Consultant.
Stocks of nonferrous metal, civil aviation, and insurance companies led the hefty fall this year, with nonferrous metal declining nearly 80 percent.
"That's why individual investors can make such great losses," said Wu.
The survey did not ask about the size of the respondents' individual accounts. Latest figures from the China Securities Depository and Clearing Co show that nearly 120 million A-share accounts were opened with various stock brokerages as of Dec 19. Of these, 199,700 accounts were opened in the week from Dec 15.
Shares held by these accounts amounted to 4.5 trillion yuan, or nearly 50 percent of the total capitalization of all tradable shares, said Wu.
Such a massive evaporation of assets in the past year has naturally dampened investors' spirit. More than 70 percent of the respondents of the Shanghai Securities' survey said they believed their purchasing power has been falling as much as the stock index. About 20 percent of the respondents said they have shelved their plans of buying new apartments, cars or refurbishing their homes.
Nearly 70 percent of the survey respondents said they would exit the stock market in 2009. Of these, 58 percent said they would retreat from the market.
Among the more bullish respondents, 27 percent said they expected the stock market would drop further in the beginning of 2009 before recovering later in the year. Others predicted that the market would rebound early next year before going into the doldrums again.
"People's investment enthusiasm in the stock market will be severally shattered going into 2009, given a series of panic selling this year, " Wu said.