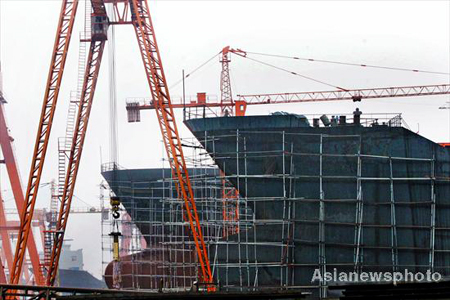 A shipyard in Zhejiang province in this file photo taken on March 16, 2008. [Asiannewsphoto] 
Chinese shipbuilders have taken a bigger hit than their foreign competitors from the global economic downturn, and the outlook is even gloomier for the next two years.
In the first 11 months of 2008, Chinese shipyards reported a 44-percent drop in new orders, compared to the world average of a 37-percent decline, according to Clarkson Research Studies. The global research company's report showed that during the 11-month period, Chinese shipyards received new building orders totaling 54.26 million tons deadweight, compared to South Korea's 65.97 million tons and Japan's 17.92 million tons.
South Korea, China and Japan are the world's top three shipbuilders, which together account for 84 percent of the world total. New shipbuilding orders received by South Korean and Japanese yards in the first 11 months of 2008 dropped by 29 percent and 18 percent, respectively, from a year earlier.

The demand for bulk carriers has fallen faster than that for container ships and tankers. That is having a strong impact on many Chinese shipyards, which enjoy an advantage over their foreign competitors in building relatively less sophisticated vessels.
The IMF predicted that new shipbuilding orders in 2009 will fall to about 60 percent of this year's level. Bao Zhangjing, senior researcher from the China Shipping Industrial and Economic Research Center, is even more pessimistic, putting the number at only 40 percent.
Analysts said the downward trend will continue for the next two to three years.
Nantong Rongsheng Heavy Industry Group Co Ltd, one of the top 10 shipbuilders in China, has reported that $1.6 billion in new shipbuilding orders booked earlier this year were cancelled.
Singapore Pacific Carriers said that about 382 shipbuilding orders worldwide have been canceled. Of these, 197 orders, totaling 19.66 million tons deadweight, were booked with Chinese yards.
"Small- and medium-sized shipbuilders are the victims," said Yang Xinfa, secretary general from the Association of Shanghai Shipping Industry.
The Chinese shipbuilding industry will need to restructure to survive this crisis, said Wu Minghua, an executive from China Maritime magazine.