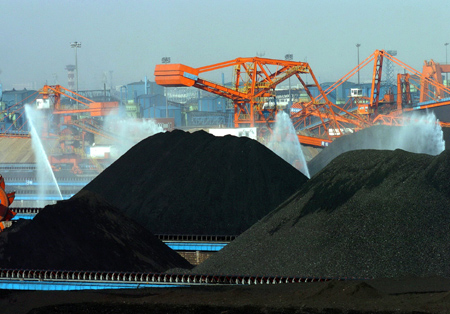 Coal heaps are seen in this file photo in Qinhuangdao, Hebei province. The National Development and Reform Commission (NDRC) said yesterday it would remove the pricing caps on coal from next year and adopt a market-oriented pricing mechanism. [Xinhua]
The National Development and Reform Commission (NDRC) said yesterday it would remove the pricing caps on coal from next year and adopt a market-oriented pricing mechanism.
Related readings:


 China to invest over $21b in railways in coal-rich Shanxi province


 Qinhuangdao coal prices slide by 18% in a week


 New rail line to transport coal from Inner Mongolia


 Coal firms seek output cut as prices fall

China had established pricing caps on coal to prevent prices from rising higher than the price on June 19.
"The removal of pricing caps would come into effect from next year," the NDRC said in a statement on coal production and demand for 2009.
The NDRC, however, said it will adopt a market-oriented coal pricing mechanism as it reflects the real demand and supply, the resource scarcity and environmental costs associated with the commodity.
Liu Tienan, vice minister of NDRC, said domestic coal prices would now become more market-oriented.
But the NDRC also said the government would take measures when there are sharp fluctuations in coal prices.
Coal prices have fallen sharply in China due to the global economic downturn and dwindling domestic demand.
According to statistics, the average coal price in China fell by 30 to 40 percent in November, compared with the price in the middle of the year.
Some coal officials have even suggested that the government set up a minimum price for coal to prevent under-pricing.
"In November, coal prices fell as demand for steel and cement waned due to the sluggish housing market," said Hao Xiangbin, director of the Coal Transport and Distribution Association.
"The demand slowdown affected the industry much more than the economic crisis."
Zhang Guobao, head of the National Energy Administration, however, said the financial crisis would not impede China's economic growth and the resultant increased demand for energy.
Huang Shengchu, president of China Coal Information Institute said: "Though winter heating has boosted coal demand to some extent...the market would be gloomy after the heating period ends," Huang said.
"The government's 4-trillion-yuan economic stimulus plan aimed at building more infrastructure projects would certainly boost steel and electricity demand next year," he said.
Huang, however, sees no respite for the falling coal prices.
"Due to the closure of many manufacturing units and the lackluster real estate market, there will be a significant contraction in demand for thermal coal for power generation as well as metallurgical coal for steel production," Huang said.
"I believe the coal producers will experience a worse chill next spring," he added.
Li Guojun, an official with Tiefa Coal Industry Group Co Ltd in Liaoning province said while the impact of the financial crisis has not been much on his company, it has already started seeing a downtrend.
"In the past, we had very few coal stockpiles but now we have over 600,000 tons," he said.
The National Energy Administration has said that China's coal stockpiles could increase substantially by the end of this year.
Some local governments have even suggested that coal output be cut to maintain higher prices and protect coal enterprises.
"It is more appropriate to let the market decide the country's coal supply," said Wang Shuhe, deputy administrator and chief engineer of the State Administration of Coal Mine Safety.
Wang told China Daily yesterday that coal producers have improved their resilience levels after the Asian financial crisis in 1997 and would be able to weather the current crisis.
"Coal enterprises should utilize this time to conduct internal reforms and also upgrade their technology to boost competitiveness," Wang said.