High hopes are pinned on the three-day Central Economic Work Conference that began yesterday in Beijing.
In view of the severity of the economic situation at home and abroad, it is only reasonable to expect that the Chinese authorities will come up with more stimulus measures to prevent a sharp slowdown of the national economy.
However, while anticipating massive government steps to bolster employment and domestic demand, Chinese enterprises should not wait for the current crisis to burn itself out. They should strengthen confidence to ride it out successfully with drastic reforms that are crucial to their long-term competitiveness.
The year-end Central Economic Work Conference is usually a key meeting held both to review the year's economic growth and set the tone for next year's policy-making.
The extraordinary turnaround of macroeconomic conditions from overheating in the early half of this year to a sudden slowdown in the second half makes it more complicated than ever for Chinese policymakers to respond timely and adequately to the crisis.
In the face of an increasingly gloomy global growth outlook, the government has so far aggressively cut interest rates and launched a $586-billion stimulus plan to boost domestic growth to offset the impact of ebbing exports.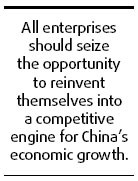 Nevertheless, as the global financial crisis deepens and recession hits the developed economies, it is far too early to predict how hard China's exports sector will be eventually hit and other domestic businesses be affected.
Fortunately, after five years of double-digit growth, the government has accumulated a deep national coffer for the coming rainy days.
And with a keen grasp of the challenges the country faces, the authorities are also well positioned to deliver all the stimuli needed to ensure sound and stable economic growth.
Yet, to steer the economy through the hard times ahead, government measures alone will not be enough. Domestic enterprises must also play their part to make the current crisis an opportunity for their own upgrade as well as the change of growth pattern for the national economy.
Admittedly, looming evidences do not bode well for domestic businesses. It has been reported that car sales and electricity production dropped and export growth decreased further in November.
With consumers tightening their purse strings and producers cutting investment, it will not be easy for domestic enterprises to stand the test of an economic slowdown at home.
But since the government is doing its best to improve the macroeconomic condition, all enterprises should seize the opportunity to reinvent themselves into a competitive engine for the country's economic growth, create more jobs and maintain stability.