Top policymarkers will convene Monday to discuss how to grapple with the challenge of ensuring at least 8 percent economic growth next year while at the same time pushing forward with the nation's economic restructuring, economists have said.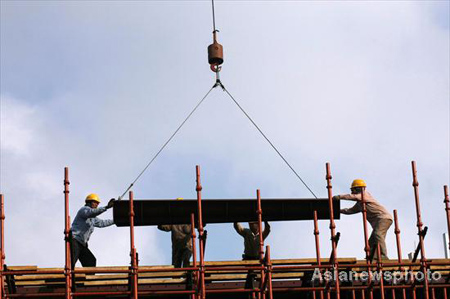 Workers at a construction site in Haikou, Hainan province, in this photo taken on December 3.  Top policymarkers will convene Monday to detail measures for achieving at least 8 percent growth next year while pushing forward with the nation's economic restructuring, economists have said. [Asiannewsphoto]
The annual Central Economic Work Conference, to be held from Monday to Wednesday in Beijing, will set the tone for next year's economic policy. The three-day event is expected to shed more light on how the government will use fiscal and monetary measures to bolster employment and domestic demand, while reducing excessive dependence on exports.
Related readings:


 Industrial dynamic crucial against economic slowdown


 Boost scrutiny over stimulus fund use


 Stimulus financing spelt out
"The meeting will detail measures for achieving at least 8 percent growth in 2009, the minimum required to keep the unemployment situation under control," said Song Hong, a researcher with the Chinese Academy of Social Sciences (CASS). Song was one of the two economists who attended a Nov 28 meeting with top Party officials to discuss economic priorities for 2009.
The nation's economic growth dropped to 9 percent in the third quarter, compared with 11.4 percent for 2007. The global economic slowdown may even drag down China's growth to 7.5 percent in 2009, the lowest in two decades, the World Bank forecast earlier.
Such growth, considered high for many economies, is however not deemed enough for a nation that needs to churn out 10 million jobs for fresh job seekers each year. Over the past months, a number of factories in the costal export bases have closed down, leading to the layoffs of hundreds of thousands of migrant workers.
The bleak situation has led the government to unveil a host of measures such as a $586-billion stimulus package and hefty cuts in interest rates to jack up domestic demand.
Analysts said the government may elaborate at the conference on how it plans to finance the massive stimulus package, which is critical to make up for declining foreign demand.
Zhang Ping, minister of the National Development and Reform Commission, said earlier that the package could bolster annual GDP growth by 1 percentage point by 2010. Previous statistics show 1 percentage point in GDP growth could create about 1 million jobs.
"Policymakers may put forward further fiscal and monetary stimulus measures," Song said. "The $586 billion package may prove insufficient, given the worsening world economy."
It was reported earlier that policymakers would also discuss raising the threshold of personal income tax from 2,000 yuan to 3,000 yuan a month. The move, combined with tax cuts already announced for local businesses, is expected to boost domestic consumption and corporate investment.
Some analysts also expect the yuan to start to depreciate after the conference, which could benefit the nation's struggling exporters.
While most analysts are looking at the conference for more pro-growth measures, some say policymakers will also reiterate the message that they have no intention of delaying the transformation of the country's development pattern.
"The current crisis could be an opportunity to reduce the economy's excessive reliance on exports," Zhao Tao, deputy secretary-general of the Policy Research Office of the CPC Central Committee, wrote in commentary published on Saturday in Outlook Weekly, a publication of the Xinhua News Agency.
According to Zhao, the nation's polices will be directed at boosting domestic demand, consumption in particular, rather than low-end manufacturing for exports.
And the nation will strive to reduce its dependence on foreign trade, as a share of GDP, from 60 percent last year to 40 percent by 2020 and eventually to less than 25 percent.
The government will also unveil more measures to encourage consumption, which should account for about 75-80 percent of the GDP by 2020, Zhang said.
Final consumption, which includes household and community spending, now makes up about a half of the nation's economy, compared with an average of 70 percent in developing countries and 80 percent in developed economies. This forces China to rely heavily on foreign demand, which also makes it vulnerable to economic downturns abroad.
"Policymakers should make clear that growth should not come at the expense of a delay of the nation's economic restructuring," said Zhang Xiaojing, an economist with the CASS, the country's top think tank. "Or we risk repeating today's plight in a few years."