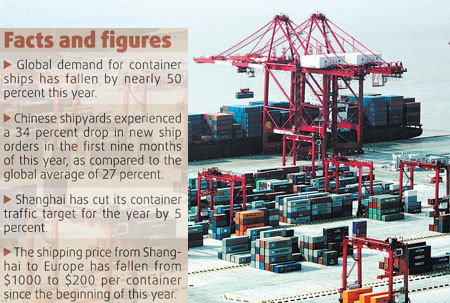 The financial crisis of the last few months and the ensuing economic downturn are putting enormous strains on the once booming ocean shipping industry.
Benefiting from the past several years of expanding shipping volumes and building ever-larger ships to meet increasing demand to move containers, the shipping industry is now starting to seize up as the demand substantially weakens.
As a result, major container shippers, bulk operators and port authorities in China are suddenly suffering badly as the slumping export sector passes on the impact of slumping worldwide demand.
Shanghai, one of the world's busiest ports, has cut its container traffic target for the year by 5 percent, blaming this on the global financial crisis and an economic slowdown.
With a container volume of 26.15 million twenty-foot equivalent units (TEUs) last year on the back of over 20 percent growth, Shanghai surpassed Hong Kong for the first time in 2007 to become the world's No 2 container port, second only to Singapore.
However, such phenomenal growth has been tempered by the ongoing global economic recession. Total container throughput in Shanghai is expected to reach 28.5 million TEUs, less than its earlier target of 30 million TEUs. The port attributed the slowdown to the drop in export volumes and sluggish domestic demand, according to Chen Xiyuan, president of Shanghai International Port Group Co (SIPG), operator of China's busiest container port.
Chen said container exports to the US, which account for 20 percent of the city's total export volume, have slid 7.8 percent in the first nine months of this year.
In addition, shipping fees have been dropping like a stone, Chen said. The shipping price from Shanghai to Europe, for example, has fallen from $1,000 to $200 per container since the beginning of this year.
With the Baltic Dry Index (BDI), a measure of commodity-shipping rates, tumbling 90 percent off its May peak, many shipping companies in China are reportedly keeping their ships idle, because the current prices can barely cover their costs.
The situation is just as grim at shipyards. As slowing economic growth cuts demand for steel, coal and iron ore, demand for ships is also falling. According to shipbrokers Clarkson, global demand for container ships has fallen by nearly 50 percent this year.
China is among the hardest hit countries. According to a recent report from China International Capital Corporation Limited (CICC), Chinese shipyards experienced a 34 percent drop in new ship orders in the first nine months of this year, as compared to the global average of 27 percent.
This trend is expected to continue as global trade growth is projected to continue its downward spiral. In its recent forecast, the International Monetary Fund projected that world trade growth would slow to 4.9 percent this year and 4.1 percent next year, due to reduced demand for imports as a result of the overall weakness of the global economy. The volume of trade growth could begin to contract for the first time since 2002, industry experts said.
On the other hand, China's domestic demand is also softening, given that the global economic recession is extending its tentacles into many industrial sectors, which has added to the woes of ship operators. China's steel and real estate sectors, in particular, have registered a significant slowdown. Major steel manufacturers in China announced 20 percent cut in production on sluggish market demand and plunging prices.
However, some are more optimistic regarding the industry's future prospects. Liu Zuoliang, chairman of Shanghai Tongsheng Investment Group, said with the completion of Yangshan Deepwater Port this December, Shanghai is well on track to realize its ambition of becoming an international shipping hub. The deepwater port is believed crucial for expanding the city's container handling capacity.
Third-phase expansion of the deepwater port is expected to wrap up and it will open to ships and traffic by mid-December, bringing the port's annual handling capacity to 12 to 15 million TEUs with 16 berths in all, project developers said.
Meanwhile, construction of the port's western section will start next year and is slated for completion with 10 to 12 berths by 2013.
While Yangshan Port has also experienced some slowdown, from the projected 9 million to a little over 8 million TEUs in throughput this year, Liu still expected the port to be highly competitive given its international-standard hardware and services. The outlook remains upbeat because Yangshan Port has been operating well above its designed capacity, Liu said.
"It is recognized internationally that ports operating at 70 percent of their designed capacity are comparatively healthier, so even with the slowdown setting in, we believe the container volume at Yangshan Port can be maintained at a proper level."