The national rail network is set to grow by 41,000 km by 2020, thanks to a 5 trillion yuan ($730 billion) government spending plan, a senior railways official said on Thursday.
By 2020, the country's rail network will stretch 120,000 km, Lu Dongfu, vice-minister of railways, said at a press conference in Beijing.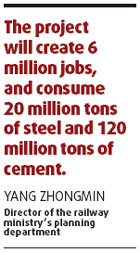 The large-scale projects will be good news for passengers, as journey times between capital cities will be "cut in half", he said.
The increased spending is part of the country's mid- to long-term railway plan, revisions to which were approved by the State Council on Oct 31, but announced only yesterday.
The project will include the construction of new rail lines, "doubling" existing ones, and the electrification of certain other sections, Lu said.
"By 2020, 41,000 km of new lines will be in place, up from the original plan to build 16,000 km of track," he said.
The massive plan will include the construction of routes linking China to Russia, Mongolia and other neighboring countries, and the expansion of cross-country routes, he said.
The high-speed rail network will also be extended by 16,000 km, rather than 12,000 km as originally planned, he said.
By 2020, the length of railways on which passenger trains can run at up to 200 kph will be 50,000 km, up from the planned 30,000 km, Lu said.
By linking all provincial capitals and cities with more than 500,000 residents, the network will be accessible to 90 percent of the population, he said.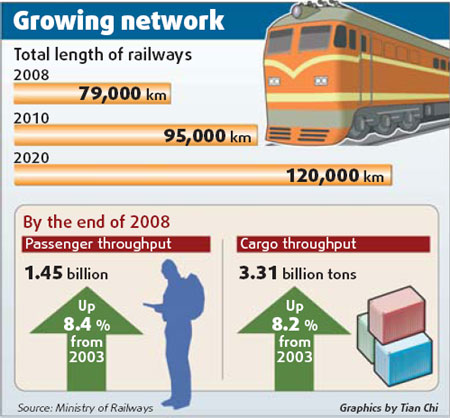 The changes to the railway plan were made partly in response to the need to boost domestic demand, he said.
Yang Zhongmin, director of the railway ministry's planning department, said the project will create 6 million jobs, and consume 20 million tons of steel and 120 million tons of cement.
A number of rail projects, valued at 1 trillion yuan, are already under construction across the country, he said.
Next year, 600 billion yuan will be spent on the construction of track and 100 billion yuan on buying rolling stock, Yang said.
Also on Thursday, Zheng Jian, deputy chief engineer with the ministry, responded to recent suggestions in the media that China has a shortage of skilled manpower.
"We have about 30,000 professionals in railway design and geological surveying, which is more than enough to meet our requirements," he said.
Also, stringent control mechanisms have been developed to monitor construction quality and the use of funds, he said.
By the end of this year, the country's rail network will have grown to 79,000 km.