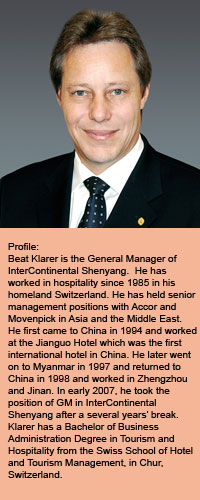 InterContinental Hotels Group (IHG) is the world's largest hotel group by number of rooms. It has over 4,000 hotels and more than 590,000 guest rooms in nearly 100 countries and territories around the world.
InterContinental Shenyang opened in 2001 and is the first 5-star hotel in the capital city of Liaoning Province. The hotel with 298 rooms is well-known for its excellent service.
Beat Klarer, the General Manager of InterContinental Shenyang and Holiday Inn City Centre Shenyang was appointed to the position in early 2007. He has more than 20 years' experience in the hospitality industry.
Recently, he talked with Liu Ce, a reporter from the China Daily newspaper, about various issues such as the local market, competition and social responsibilities of InterContinental Shenyang.
Q: InterContinental was the first 5-star hotel opened in Shenyang and it still plays a leading role in the local market. Have there been any noticeable changes over the years?
A: At that time, things were progressing completely different compared to today. Shenyang at that time was still considered as a city that was developing at a slower rate than other cities, such as Shanghai, Beijing and Guangzhou. However, it was obvious that the government was intent on implementing the changes that are visible to everyone today.
Shenyang being an industrial city, one example of change can be seen with one foreign company. This company invests 500 million yuan in the city with a tail of suppliers that encouraged new companies to come to the city. As these new companies invested in the market, it immediately reflected in our hotel industry. There has been a steady rise in the hotel industry also demanding an increase in the amount of rooms within the hotels themselves.
However, with the current market situation, a hotel brand that can offer extra value will be more favored by the customer.
Q: Does it mean this is the most difficult time for hotels?
A: InterContinental Hotels & Resorts is a long established hotel brand; however, compared to Holiday Inn as a household brand, the InterContinental still needs to take some time building its brand awareness in China.
The majority of our customers are Chinese and most of them are from international companies. Nonetheless, the employees are from local areas and predominantly Chinese. Other multinational companies such as Nokia, are found to have as many as 99 percent Chinese as their employees. However, Nokia still declares itself to be an international company. Over 70 percent of hotel customers are locals. We specialize in multinational companies, and therefore, our customers are predominantly from foreign-related companies and their employees.
Q: As you mentioned there are more and more hotels coming into the market. What's your advantage compared with the others?
A: The advantages for customers are that our rates are very competitive; they would have pay double in Shanghai. We also pride ourselves in giving our customers excellent service for which they often stay with us for long periods of time. Some of our customers have been with us for more than five years and are very happy with the service they receive. We always put the customer first.
Q: All hotels emphasize on the quality of 'service'. What differentiates the service provided by the Intercontinental and other 5-star hotels?
A: All 5-star hotels should provide good service. What makes the difference is having the ability to exceed the customers' demands. For example, during the 'Six-part Talk' held in Shenyang, we had Japanese and American delegates. They arrived late in the evening approximately at 11 pm. The next morning, the official meetings started very early. One lady lost her luggage and arrived at the hotel without any appropriate clothing suitable for the official meetings. Therefore, we quickly organized the purchase of shoes for her, overnight. She went to the meetings the next morning dressed appropriately and feeling confident. These are the small things we do to differentiate our service to customers, by going the extra mile and thus we exceed customer's expectations. Going to help a customer in real need and solve his problem makes the difference between just good and excellent.
In addition, putting the right person in the right job is the key to management and the service we provide. I carefully select people for the role they play in our hotels. They need to have the right skills to achieve a good performance. It is also essential to give employees responsibility and ownership of their tasks, allowing them to perform well, be satisfied and gain recognition for what they achieve. On the whole, the employees of InterContinental are well looked after and report a high rate of job satisfaction. I perceive this as being essential to the financial performance of our industry. If the employees are happy in their jobs and perform well, our performance, as a whole, will increase and this will affect the financial status of our business.
Q: InterContinental is seven-years-old now and the interior decoration and some facilities are becoming outdated. And do you have any plan of renewing the hotel?
A: We always keep our facilities updated. We refurbished several rooms, and upgraded our Topaz Lounge & Bar. Many outsiders believe that a hotel needs to have the latest gadgets in order to be competitive in the market. However, feedback from our customers shows that the majority rate 'hotel service' as being more essential than the 'latest design trends' within a hotel. Of course we have to be up-to-date with business travelers' needs such as broadband, in-room WiFi, etc., but we do not see it necessary to change our warm-hearted hotel ambiance to a no-frill contemporary glass-and steel decoration, just to match newly-opened hotels' interior design. Many customers like our design and appreciate the difference of our hotel.
Everybody provides good service. We make an effort to learn our customers' names by heart. We also organize several 'outings' every year. The last one was to Harbin and we invited our long-staying customers. This included a trip to the Ice Exhibition and a two-night stay, with accommodation for the customers and the employees. In this way, we are able to encourage good relations between our customers, as they bond with the employees on such outings. In the future, should any problem arise for the customer, they would know who to contact and would feel free to approach the member of staff. So that on the whole, it makes them feel confident that they will be listened to.