Related publication: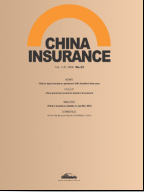 Related readings:


 Milestones in China's insurance sector


 Pacific Insurance reports Q3 loss on investment


 No assurance of success
As the financial turmoil shaking Wall Street spreads worldwide, Chinese insurance companies are beginning to adjust their strategies and place their business focus back on traditional products to avoid the fates of their western counterparts.
It is inevitable that domestic insurance companies will be affected by the financial crisis, said Hao Yansu, director of insurance at the Central University of Finance & Economics. He added that impacts from the crisis could reach Chinese insurers through their overseas assets, direct transfer of risks, and foreign shareholders.
Due to the credit crunch, Yamato Life Insurance, a Japanese insurer, declared bankruptcy last week. It indicates the devastating financial turmoil has extended its impacts to Asian insurance companies, said an unnamed expert.
Chinese insurers have felt the pinch too. For instance, Ping An's buyout of Belgium's Fortis Investment led to significant losses, the collapse of American International Group greatly affected its China subsidiary, and the investment failure of MetLife, the largest insurance company in the United States, placed its China subsidiaries as a focus of attention.
To reduce risks, China Life, Allianz China, CITIC Prudential and several other insurance companies have begun to roll out new guarantee-type products since August. "Last year, investment-type products were very popular. Now the situation is quite different," said a China Life employee.
Statistics show that the proportion of securities investment funds in insurance fund investment rose from 7.01 percent at the beginning of 2007 percent to 9.47 percent at the end of that year, and that of stocks grew from 10.07 percent to 17.64 percent, while the average yield of insurance funds that year was as high as 12 percent.
In the first half of this year, the share of equity investment was reduced to 17.6 percent, lower than the figures at the end of 2007 and in the first quarter of this year at 27.12 percent and 21.4 percent respectively. The profit of insurance funds in the first half was 64.87 billion yuan ($9.49 billion), with an average yield of 2.4 percent only.
......
The full text is available in the October Issue of China Insurance.