The US financial crisis has dealt a heavy blow to the Chinese economy and policymakers need to take prompt and powerful measures to restore confidence, economists urged.
Related readings:


 White collar workers feel the pressure amid global financial crisis


 Impact of Financial Crisis on China


 Crisis? Not yet, say expats in China
Although Chinese financial institutions have not suffered major losses from the crisis, many enterprises have gone bust and investor confidence has been sagging, leading to weakening investment and consumption, economists told a seminar hosted by China Development Research Foundation yesterday.
The global economic slowdown, worsened by the ongoing financial turmoil, has led to reduced demand for Chinese exports, said Ding Ningning, a researcher from the Development Research Center of the State Council.
Facing this unprecedented crisis, China should take bolder moves to bolster investor confidence and invigorate the economy, said Xiao Geng, a senior fellow at the Brookings Institution.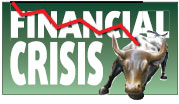 "The worst problem is lack of confidence in the economy," he said.
China needs to release a "big bang" policy package, including monetary policy easing, tax cuts and massive infrastructure investment plans, to send a strong signal that the government is resolute in helping out ailing firms.
"Only in that way can the banks dare to lend and investors dare to invest," he told China Daily.