Industrial and Commercial Bank of China Ltd (ICBC), the world's largest bank by market value, posted the smallest profit increase since going public two years ago on weaker corporate demand for loans and other financial services.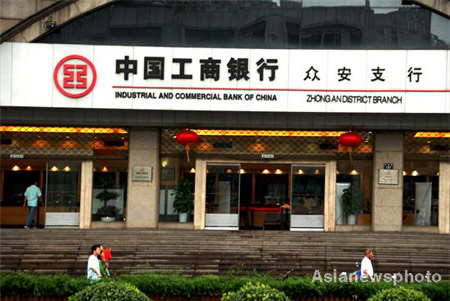 An ICBC outlet in Hangzhou, capital of east China's Zhejiang province. The bank said profits in the past nine months increased largely because of more interest income despite the malaise from the global financial crisis. [Asianewsphoto]
Net income rose 26 percent in the third quarter to 28.2 billion yuan ($4.1 billion), or 0.09 yuan a share, from 22.46 billion yuan, or 0.07 yuan, a year earlier, the Beijing-based bank said in a statement on Friday.
Chairman Jiang Jianqing more than doubled ICBC's profit since 2005 as economic expansion of more than 10 percent bolstered demand for loans. He must now contend with slower demand for loans and rising credit costs as cooling exports cause more Chinese companies to default.
"All the evidence we've seen such as a deterioration in asset quality, slower loan growth and contraction of net interest margins points to a downturn in the banking industry," said Li Ming, who manages 9 billion yuan at Dacheng Fund Management Co in Shenzhen. "The best period is officially behind us."
Chinese banks may report a 7-percent decline in profit in 2009 on tighter lending margins and an increase in non-performing loans as the slowing economy drives some businesses out, Citigroup Inc said last week. Citigroup forecast the non-performing loan ratio of the nation's six largest publicly traded banks will rise 0.74 percentage point to 3 percent.
Banks offered 1 trillion yuan of new loans in the third quarter, 10 percent less than the amount offered in the second quarter and about 25 percent less than that of the first quarter, according to the central bank.
ICBC increased lending by 8 percent in the first nine months to 4.29 trillion yuan from the end of last year.