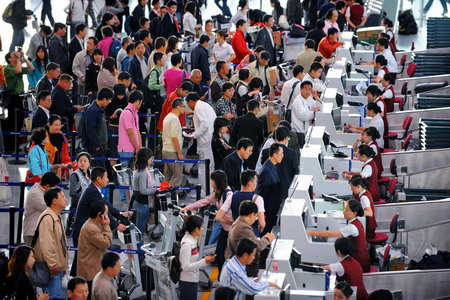 Tourists wait to check in at Beijing Capital International Airport. [China Daily]
Just two weeks after the National Day holiday, travel lover Liu Junlong's thoughts are already turning to where he will go during the next Spring Festival.
Asked whether the global financial crisis would impact on his travel plans, Liu, who works for a multinational company in Beijing, said his income has not been influenced by it, so that there was no reason for him to be worried.
"I think that the credit crunch will have a very negative impact on the US economy, and make it relatively cheaper to travel in that country, so I'm planning to travel to America," he added.
Industry insiders said although the crisis will have some effect on tourism in China, it will not be very serious.
According to recent statistics from the National Tourism Administration, Chinese outbound visitors reached 34.4 million in the first nine months of this year, up 14.8 percent year-on-year. In September, about 3.7 million Chinese people traveled overseas, an increase of 9.04 percent year-on-year.
In addition, domestic tourism is flourishing, with more than 178 million Chinese traveling within the country during the National Day holiday week, up 22.1 percent from the same period last year.
Despite the financial crisis and worries about a global recession, many Chinese travel companies remain confident about their business prospects, saying that due to huge domestic demand and tremendous market potential, China's tourism sector will be able to weather the storm.
Zhu Dan, a senior staff member at a State-owned tour company, said domestic tourism, which will probably not be influenced very much by the financial crisis, accounts for of China's tourism industry.
As for outbound travel, a small part of the industry, it may be a bit depressed by the shrinking domestic stock market, Zhu said.
Industry analysts said they expected a surge in outbound tourism, owing to the appreciation of the renminbi and possible falls in hotel and flight prices due to the financial crisis.
Hu Miao, an official in charge of travel to Hong Kong and Macao with China International Travel Service, said the firm wasn't aware of the financial crisis having any impact on its business so far.
"After the May 12 earthquake and Olympic Games, our business is rebounding very fast," she said. "We're not concerned about the financial crisis as we believe our business depends mostly on China's booming economy."
"The major impact of the credit crunch should be on inbound tourism", she said. "But regarding some relatively low-cost tourism products designed for the general public, such as trips to Hong Kong and Macao, they are still very popular."
Francesco Frangialli, secretary-general of the UN World Tourism Organization, said on Monday he was confident the tourism sector was not overly vulnerable to the global credit crunch.
"Tourist arrivals around the world are expected to slow this year due to high fuel prices, but experience teaches us that tourism is resilient. The need to go on trips, to take holidays, is too strong in our post-industrial societies," he said.
He said the crisis is likely to have less of an effect than the spread of SARS in 2003, when travel fell off sharply, especially in Asia.
Figures released by the National Tourism Administration indicate that with a total of 97.3 million inbound visitors, China earned roughly $30 billion in tourism revenue from January to September this year, a fall of 3.26 percent year-on-year. In September, inbound visitors totaled 10.6 million, a fall of 5.9 percent.
Alex Kyriakidis, global managing partner of tourism, hospitality and leisure at Deloitte, said: "The Asia-Pacific is by no means decoupled from the uncertain and volatile economic environment in the US and Europe, and although the backlash for the Asia region has been delayed, it was inevitable."