Agricultural Bank of China (ABC), saddled with over 800 billion yuan of bad debt, yesterday won government approval to restructure itself into a shareholding bank, paving the way for its listing.
The State Council approved the bank's restructuring plan, according to a statement on its website, without giving more details.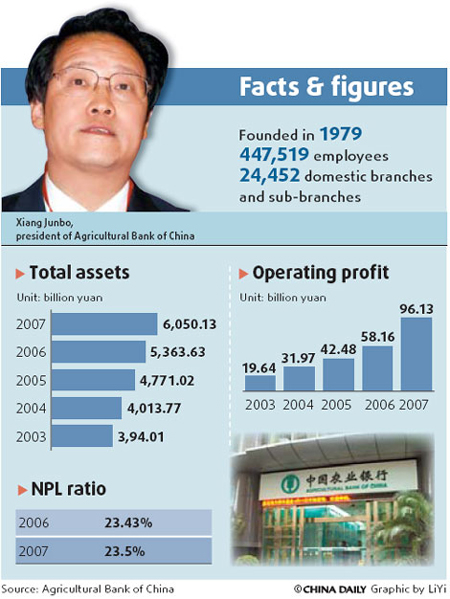 But sources close to the matter said that the bank may receive a $19 billion cash injection from the government.
Central Huijin Investment Co Ltd, a unit of China's $200 billion sovereign wealth fund, will buy a 50 percent stake in Beijing-based ABC, with the remaining half going to the Ministry of Finance.
In fact, Central Huijin released a recruitment notice in September, offering director-level posts at the bank.
With the highest non-performing loan (NPL) ratio among China's Big Four commercial banks, ABC is the only one that has yet to be listed.
The bank reported NPLs of 817.97 billion yuan as of the end of 2007 in its annual report, with its NPL ratio hitting 23.5 percent.
According to the bank's top management, this extraordinarily high NPL ratio is largely due to policy-oriented business.
"Several Chinese lenders transferred their policy-oriented business to ABC during the country's banking reforms, which left ABC with 300 billion yuan in bad assets," ABC Vice-President Han Zhongqi was quoted by China Business News as saying in May.
But the bank's profitability has rapidly improved. Net profits surged 127.17 percent year-on-year to 11.87 billion yuan in 2007, thanks to growing income from interest and commission, according to the bank's annual report.
"The speeding up of ABC's shareholding reform is also part of the government's efforts to improve rural financing," said Wu Yonggang, an analyst from Shanghai-based Guotai Junan Securities.
Han said that, following the reform, the bank would continue to serve agriculture, rural areas and rural residents as a business development strategy.
By the end of last year, the bank's outstanding loans rose 10.48 percent year-on-year to 3.48 trillion yuan, with agriculture-related credit accounting for 34.75 percent of the total.