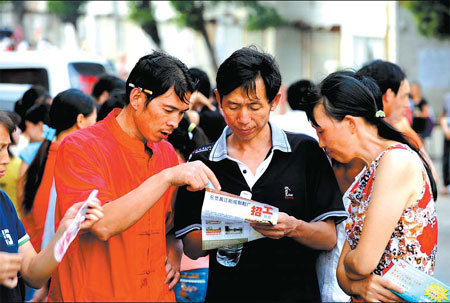 Workers laid off from the Smart Union toy factory in Dongguan, Guangdong province, scan the jobs section of a newspaper on Saturday outside their former workplace. [China Daily]
As many as half of all toy manufacturers in the Pearl River Delta could go out of business within the next two years, an industry expert said yesterday, following the closure of the Smart Union toy factory in Dongguan last week.
Speaking in an interview with Guangzhou Daily, Wang Zhiguang, vice-chairman of the Dongguan Toy Industry Association, said: "Of the 3,800-odd toy firms in Dongguan, no more than 2,000 are likely to survive the next couple of years."
His pessimistic forecast is based on analysis of the rising cost of raw materials, soaring overheads, the global market slowdown and deprecation of the US dollar, he said.
Companies with good financials and their own brands will find it easier to survive, while others, such as those dependent on OEM (original equipment manufacturing), are more likely to fail, he said.
According to figures from the association, since 2006, the total cost of producing toys has risen by about 60 percent, while contract prices have gone up by an average of just 10 percent.
Also, according to the local customs bureau, Dongguan firms exported $550 million worth of toys in the first half of this year, down 1.5 percent on last year, and the first drop for three years.
The boss of one toy factory in Dongguan, who asked not to be identified, told China Daily yesterday: "I daren't say too much (about the demise of Smart Union).
"But what I can tell you is that we're having a very hard time.
"Maybe someday in the future, my own factory will also go under," he said.
"There have already been some negative impacts for toy makers like us, such as the tighter capital chain. We're also a lot more cautious in the way we deal with raw materials suppliers and other business partners."
Xiao Yong, the owner of a Dongguan firm that sells Christmas trees and gifts, is equally worried about what the coming winter might have in store.
"One of the main problems is that many toymakers in Dongguan rely too much on orders from the US and Europe. The financial crises there have led directly to a reduction in orders," he said.
The number of orders his firm has received for this Christmas is about half what it reported last year, he said.
"Also, after the EU and the US changed the market thresholds for China-made toys, and because of the recall incidents of 2007, our testing fees have gone up by about 25 percent," Xiao said.
In an interview with Nanfang Daily yesterday, Xiao Senlin, chairman of Hayidai Toys Co Ltd, said: "Concentrating more on the domestic market and developing our own brands instead of doing OEM could be a way to shield us from the worst of the global financial crisis.
"But this is a very challenging time, and we have to face it," he said.