Chinese venture-backed online video firms, which were on the edge of making profits, are now under risks of bankruptcy with the spreading US financial crisis, said a report in Monday's Economic Observer newspaper.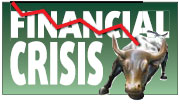 US venture capital firms (VCs) are in retreat from the Chinese market due to the financial crisis, and have withdrawn funds from many of the video sites.
Last year, there was $300 million from VCs poured into the Chinese online video market, and an astonishing $100 million flooded in during a single week this April. The second largest Chinese online video website, Tudou.com, alone absorbed $57 million from VCs this April, while the largest, Youku.com, announced it had raised $40 million from VC investors at the end of June.
According to statistics from the China Internet Network Information Center, online video surpassed search engines to become the favorite sites for Chinese netizens by the end of June, stoked by the rush of venture capital.
However, this tide has fallen back, as most US-based VC giants are troubled by the most serious financial crisis since 1929 in US history.
Thrifty venture-backed firms
About two thirds of capital injected into Chinese venture-backed internet companies is from overseas VCs, and US VCs in particular, said Gu Yongqiang, president of Youku.com. The breaking financial crisis is also taking a toll on the residents of Sand Hill Road, which led to the withdrawal of hot money and a higher level financing thresholds, said Gu.
China's largest mobile TV group, Towona, will be the first to feel the capital shortage. The company has raised a total of $95 million so far from Cathay Capital Group, Walden International, Chengwei Ventures and several other VC giants. It has been expanding in the Chinese mobile TV market rapidly and has released its plan to go public at the end of this year.
However, the expenditure for its expansion is also huge. Towona ended cooperation with Shanxi Public Mobile Television because it couldn't pay the contract. Although Towona took in another $50 million from Baring Private Equity Asia in February this year, it was far from enough to quench Towona's thirst for capital.
"Before Towona goes public, the company could attract more VCs if it profits well." said one of Towona's partners, "However, Towona has lowered its profit expectation and VC investors are becoming more and more cautious with the financial crisis. It will be difficult for Towona to get more VC investments."
The situation is similar with Tudou.com. Online video websites are undoubtedly the biggest "black holes", crying for huge amounts of investment. Tudou.com has had to seek more capital every 9 months in the past three years, but it still hasn't started to make profits.
"We must strive to cut website flows that don't generate instant revenue," said Tudou.com's CEO Wang Wei. "Although this may let our rivals surpass Tudou.com in website use, we must be frugal to survive under the shortage of further investments," Wang added.
Retreating VCs
Many hot money and hedge funds have been withdrawn from China under the impact of the financial crisis, noticed Zhang Fan, a founding managing partner of Sequoia Capital. Unlike those VCs that make long-term investments, some have rushed into China to take a ride on the appreciation of the RMB, said Zhang. At the same time, China's local VC supplies are also ebbing.
The financial crisis has held back and even eliminated many IPO plans. So far this year, only a few venture-backed firms, such as A8 Digital Music Holdings Ltd and China Distance Education Holdings Ltd, successfully went public in the stock markets. Even less than expected, VisionChina Media was the unique Chinese media company that successively raised $101.2 million from private placements in the US market.
The small number of IPOs has hit VC investors' confidence even further. With companies that had been invested in heavily but yet to go public, VC investors have to continue to invest more, or the previously invested capital will gain nothing.
"If the IPO plan is impeded or the IPO value is lower than expected, the VC investors will reassess the investment conditions," said Youku.com's president Gu, who was once a VC investor himself.
Now, VC investors are becoming more prudent. The companies must score 8 or even 9 (with 10 as perfect) in the assessment and only then will attract VC investment, whereas before they would have been satisfied scoring between 5 and 7, said Gu.
Financial Crisis: an opportunity for VCs?
Although the VCs have become much more cautious, they are only returning to rational levels, said Yang Dong, Chairman of SoftBank Asia Infrastructure Fund.
The same idea was echoed by Ru Linqi, a managing partner of KPCB China. It currently takes three to four months to assess a company in need of VCs, compared with less than two months for hot money holders to make their investment decisions beforehand. But three months is a reasonable period for assessing a company, said Ru.
Sequoia Capital's Zhang feels far away from the financial crisis, while he keeps concentrating on looking for companies with great growth potential to invest in. Even for those companies whose IPO plans are interrupted by the current financial crisis, we will insist on our choices, said Zhang.
Although the current financial crisis has disrupted many industries and growing companies, it will also leave many opportunities for those who are well prepared, said Ye Dong, president of China's Tsing Capital.