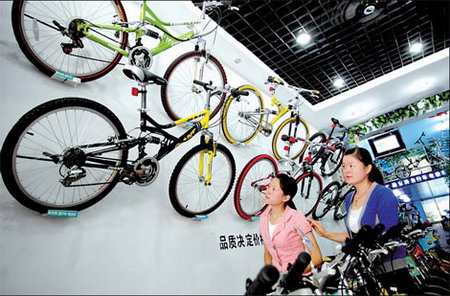 Customers look at bicycles at a shop in Huaibei, Anhui province. While the global financial crisis is not directly affecting China's financial sector, it has dampened the confidence of consumers who are trying to figure out what impact it will have on domestic jobs and exports. [China Daily] 
While the global financial crisis is not directly affecting China's financial sector, it has dampened the confidence of consumers who are trying to figure out what impact it will have on domestic jobs and exports.
Such lingering doubts have prompted many Chinese consumers to exercise much greater caution in spending on non-essential goods as they prefer to put money aside for possible rainy days ahead.
This cloud of consumer gloom is widely expected to hang over the economy for quite some time, despite the sharp rebound of stock markets around the world after global rescue packages were announced earlier this week.
"To tell the truth, I have no idea of the possible impact of the world financial crisis on our lives," said Luo Li, a 42-year-old engineer in Shanghai. "But it sounds like something that is going to impact on everyone."
Liu Fuyong, a veteran stock investor in Shanghai, is not going to wait to find out what difference it makes to his life. He has already stopped taking taxis to save money and has cut down on dining out.
Cao Shuai, 25, who works at an IT company in Shanghai, lamented that he can no longer count on his father to support his spendthrift lifestyle.
His father's textile business has fallen on hard times due to dwindling overseas orders. To make matters worse, the family still has a large debt to pay on their new apartment.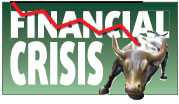 As a result, Cao has given up the personal trainer he hired every week, and buying luxury products is no longer an option. He has also had to wave goodbye to coffee at Starbucks, which he used to frequent twice or three times a week.
The fact that fears of worsening economic times ahead is prompting people like Liu and Cao to cut back is having a noticeable effect across many industries - from housing and luxury sales to catering and even tourism.
Due to a combination of falling sales and waning consumer confidence, property transactions in China's major cities hit a record low over the recent National Day holiday as more and more potential homebuyers adopted a wait-and-see attitude.
Many potential buyers believe there is room for further price adjustment and that it is too risky to invest in the property market given the instability of the global economy.
Zhu Dongsheng, who works at Gongxiao Real Estate in Shanghai, is feeling the pressure. He hasn't sold a single apartment in the past two months.
"I don't think there will be any immediate signs of recovery in the property market in the next one or two years," said Hui Jianqiang, a researcher at E-house China R&D Institute.
And following on from the 6 percent slump in car sales across the nation in August, automobile dealers in China continued to experience bad times through September and October.
Li Yuefei, regional manager of the Chang'an Ford sales company in Shanghai, said the global financial crisis has worsened the already bleak outlook for China's automobile industry.
"Daunted by their losses in the stock and property markets, consumers are obviously holding back with their purchase plans," said Li.
"They fear that the situation may get worse next year, as the full impact of the global recession has yet to be felt in China."
The situation is just as grim at jewelry and accessory stores. Miao Xiaoli, a consultant at the Japanese-owned Jewelry Studio, which sells high-end rings and necklaces, said sales fell 10 percent in September and October, which used to be the peak season for jewelry stores.
"It's not that there are fewer customers coming, they are just spending less," said Miao. High-end restaurant chains are also feeling the pinch. Shen Yi, manager of Lapis Roma, an Italian restaurant and bar on Shanghai's Huaihai Road, said sales have plunged 50 percent in the past few months.
"With the decline of the stock market and the profit squeeze suffered by many small and medium-sized companies, it will take a while for China's domestic consumption to absorb shortfalls in exports," said Wang Depei, director of Forecast Think Tank in Shanghai.
KPMG's recent Asia retail report also predicted that during the remainder of 2008, shopping will slow down in the Asia-Pacific due to inflationary pressures and the knock-on effect of the global credit crunch.
However, the gloom is not universal. According to Kathy Xu, Capital Today's managing director in Shanghai, many retail companies in which it has a stake have reported strong growth momentum.
Jingdong Shopping Center, an online retailer of digital products and electrical appliances, expects its sales to more than triple by the end of this year.
Tuo Yannan in Beijing contributed to the story.