The country's luxury goods market has not been spared the financial crisis that is spreading from the West, a consumer fair has shown.
Spending patterns at a luxury goods fair in Shanghai this year have shown that buyers are tightening purse strings and not paying for astronomically priced luxury items as readily as before, vendors have said.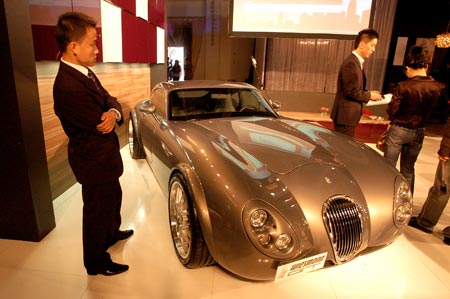 A German sports car on display at a luxury goods fair held in Shanghai on October 10. Spending patterns of the well-heeled have not been spared the ongoing financial crisis.[China Daily]
Considered one of the country's top fairs offering luxury goods, the three-day event that started on Oct 10 is said to draw many leading brands from across the world to entice well-heeled buyers.
Instead, lower grade items are reportedly turning out to be more attractive this year.
"Most orders went to low- and middle-level products, while the most expensive item, a diamond necklace valued at 7 million yuan ($1.03 million), is still on display," said a brand manager of a Swiss jewelry company, who did not want to give her name.
"The global financial crisis will undoubtedly cripple the purchasing power of the wealthy," she said.
A Singapore sculpture dealer said the company only sold a 30,000 yuan piece during the exhibition, although many people had previously inquired about its goods.
"Although the situation for the domestic market is still not clear, luxury consumption will certainly be affected by the global economic crisis," said Liu Zheng, an analyst of the luxury goods industry.
Luxury spending is said to have made China one of the sector's largest markets, despite it still being a developing country.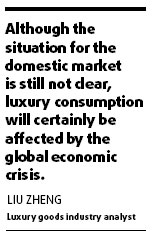 "One of the most influential factors for luxury consumption in China are those of the young generation, who show great enthusiasm for famous brands," Liu said.
"Previous surveys have shown that many consumers of luxury goods are young office workers, whose purchasing power for the items is extremely unstable," he said.
"It is the group that is much better off than them that luxury goods are geared toward."
It is therefore "not surprising" to find that, in any economic downturn, such a group of consumers will be the first to stop buying, Liu said.
A number of the city's residents are already making significant changes to their lifestyle, beyond splurging on luxury goods, to face possible financial risks.
"We are spending too much," said Xu Ying, a Shanghai office worker who has canceled a shopping tour to Europe this Christmas with her husband.
"We go there every year, but now the prices are too high. So we must cut down on a great deal of unnecessary expenditure," she said.