Qi Yumin used to be chairman of Dalian Heavy Industry Company and deputy mayor of Dalian, Liaoning province. In 2006, he took over as chairman of China Brilliance Automotive Holding Ltd  when the company faced bankruptcy. A year later, Brilliance's listed company——Jinbei Auto made a net profit of 73.24 million yuan. On May 31 of 2008, Zhonghua Junjie FRV came into the market and Qi is planning to make it become one of China's major high-quality brands.
During these years, Qi led Brilliance to develop a series of medium & high level sedans which supply the gap of independent innovation in China's auto-industry.
2008 is the 30th year of China's reform and opening-up. As a pioneer of the country's independent automobile brand, Qi has thought deeply about the auto-industry in China.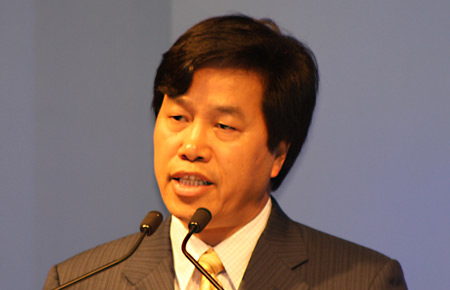 Qi Yumin, chairman of Brilliance Automotive Holding Ltd
Brand management
First, it's the biggest issue which way China's auto industry should go.
Generally, there are 3 models or ways of auto-industry development: First is an industry-dominated model like Japan and Korea; second is an import & expense model like Arabia; third is an industry-dependent model like Brazil. China is the fourth one—an exchange market for technology.
The path of auto-industry development is "manufacturing—mastering core technology—research & development". Now, we are on the first step—learning to make cars. The second step requires mastering core technology. What is core technology? One is shape design, the other is parts design. And if we don't come to the technology step, there's no research & development.
In my opinion, firstly, China as a big manufacturing country with a big market is bound to develop a leading auto industry. While all industries can be called leading industries, there must be an independent one.
Secondly, the country should cultivate a few key autonomous enterprises if we want to make the auto sector leading. These enterprises should manage self-owned brands by independent innovation and developing self-owned technology. I think the movement of auto-industry development is from government rather than enterprises themselves. It is a good reference for China's auto sector that Zhonghua take a high-level way of independent innovation from the very beginning.
If a company doesn't have his own brand, it shows a lack of independence. To put it iconically, this is to suckle a foreign child with Chinese milk. And the Chinese milk refers to the Chinese market.
Many experts have expressed that joint venture exchanging market for technology is not a good path. You will find that all companies who are developing independent innovation are clowns. So I said "who is capable lacks independence, while who is independent lacks capability". Now, Brilliance lacks capability.
China's auto industry should be eating in the bowl, looking at the pot and thinking about the field. Now, people are all concerned with the "bowl"—sales amount. The "pot" is a 5-year plan or policy. By 2015, our auto market will bigger than America. At that time, what else do we have besides the market? That's the "field". But few people are thinking about it.
When China becomes the biggest market, we should have something else besides market. Do we have international brands like BMW, Benz or Audi? So far, no international company has its base in China.
In my opinion, the peak of the auto industry is brand management. If there is no brand, how can we talk about independent innovation?
Although Brilliance is a small company, we will take the way of independent innovation by all means. But we should have other bigger enterprises doing so besides Brilliance.
The first step—learning to make cars, has finished. Next, we should turn to the second step—mastering core technology.
I think there are both achievements and lessons during these 30 years. Reform and opening-up is always a method rather than a goal. The goal is to develop the auto industry through reform and opening-up. It is worthy for us to reflect upon the problem of being over-opened and having a loss of self.