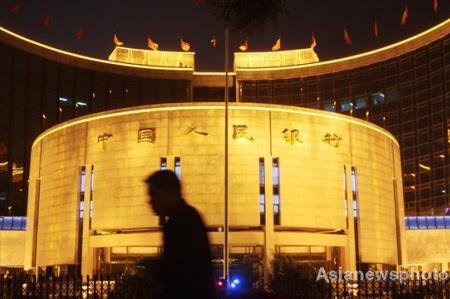 A man passes by the People's Bank of China in the file photo taken on October 1, 2007. The country's central bank vows to work with counterparts in other countries to deal the global financial crisis. [Asianewsphoto] 
China will work with other central banks to deal with the global financial crisis, and also strengthen efforts to boost domestic demand and safeguard growth, the People's Bank of China (PBOC) said on Friday.
The central bank cut interest rates and lowered banks' required reserves on Wednesday as part of a coordinated drive by global central banks to stop a free-fall in world financial markets.
It was the central bank's second rate cut in less than a month to help prop up growth, which slowed to 10.1 percent in the second quarter from 11.9 percent in all of 2007 and has been clearly softening further.
"We will strengthen cooperation with international financial institutions and central banks to jointly combat the global financial risks and crisis," Li Chao, spokesman at the PBOC, was quoted by State television as saying.
He added the central bank would adjust its monetary policy to meet global and domestic economic changes.
His remarks came hours after a statement on the central bank's third-quarter monetary policy meeting, which concluded that China was not optimistic about the international outlook. But, with $2 trillion in foreign exchange reserves, the country is sheltered from the worst of the global storm.
The central bank said the meeting had been dominated by a discussion of the market meltdown and the possible fallout for the world's fourth largest economy.
"China's national economy is moving in the desired direction in line with macroeconomic control measures, and the financial system is safe and stable," it said in a summary of the meeting posted on its website.
"The overall situation is good."
The central bank also said China would further improve the coordination of monetary, fiscal, industrial, trade and financial regulatory policies to hasten the restructuring of its economic model, which relies heavily on exports and related investments.
"China will forcefully boost domestic demand and promote a move towards basic balance in its international payments," the statement said.
It said China would pursue flexible and prudent macroeconomic policies to create a favourable monetary environment for stable and fast economic growth.