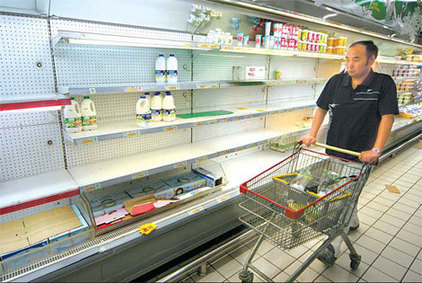 A customer walks past shelves cleared of tainted dairy products at a supermarket in Tianjin on Thursday. [China Daily]
Major shops and supermarkets in big cities have started pulling tainted milk off their shelves, after the products were found to contain melamine.
Three major dairy firms, Yili and Mengniu of Inner Mongolia autonomous region, and Shanghai-based Bright Dairy, were ordered to recall their contaminated products on Thursday by the General Administration of Quality Supervision, Inspection and Quarantine.
Also on Thursday, the State Administration for Industry and Commerce required all markets to stop selling tainted milk.
So far, more than 3,200 tons of problematic milk powers have been removed from shelves throughout the country, the State Administration for Industry and Commerce said yesterday.
Customers can get full refunds if they return the contaminated products, it said.
Supermarkets in Beijing and Shanghai removed the tainted products and replaced them with safe ones on Friday morning.
Yan Guowei, a dairy products salesman at a branch of Wu Mart, said anyone could return milk to the store as long as the products were from the contaminated batches.
Sales of dairy products have fallen sharply in recent days, Yan said, pointing out that sales of brands in which no melamine was found were also affected.
The scandal has left many shoppers wondering what dairy products are safe.
Zhang Limei, 56, said she spent 30 minutes at a Beijing supermarket trying to decide what milk or yoghurt to buy for her 13-month-old grandson.
She explained that the baby had not had any dairy products since the scandal erupted last week.
"We have been feeding the baby with soybean milk, but he keeps crying as this doesn't taste the same as cow's milk," Zhang said.
Stricter rules and regulations are required to ensure that the food industry is better run, she said.
In Shanghai, Chen Bo, communication manager of Carrefour, said the supermarket had removed all of the three brands' milk from its shelves when they were informed some of the batches were tainted on Thursday evening.
The supermarket received a list of all the tainted batches on Friday morning and replaced them with safe ones.
Sun Ming, from Century Mart, said the retailer had removed the only tainted batch, Mengniu yogurt, from its shelves.
"Removing all dairy products would spark panic among consumers," he said.
But the dairy section of the Parkson supermarket on Huaihai Road was almost empty on Friday afternoon, with only a few Bright, Sandao and imported products available.
In Guangzhou, many people have stopped drinking milk even though most milk sold by the three big firms, Mengniu, Yili and Bright Diary, remains available in supermarkets.
"Far fewer people are buying milk from the three big brands today, however, some local brands, such as Yantang and Xiangmanlou, are becoming more popular," Liu Cuihua, a sales assistant at a Century Mart supermarket in Guangzhou, said.