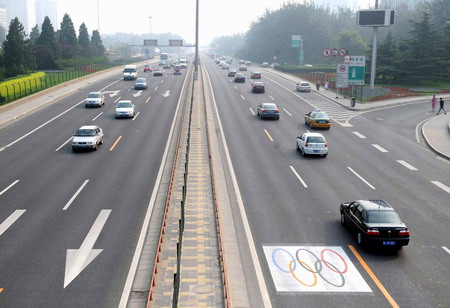 With the odd-even plate license ban to be lifted on Saturday, the Beijing municipal government is trying to set an example on curbing pollution and energy consumption by imposing a traffic restriction on State-financed vehicles, the Beijing News reported on Sunday.
Vehicles operated by government agencies, social organizations financed by government budgets and State-owned enterprises will be included in the ban, according to the gazette of Beijing municipal government, which was released on Wednesday.
The driving ban, divided into five groups, will apply to all government-financed cars from Monday to Friday, depending on the last digit of the license plates.
Government cars with license plates ending in a 1 or a 6 will be banned from the roads on Mondays. Those with plates ending in a 2 or a 7 will be banned on Tuesdays, and so on.
The rule was based on a circular from the State Council released on August 13, which requires local governments and State-owned organizations to save energy, such as driving cars less and turning down air conditioning.
Shanghai and Shandong already implemented the rule on State-owned vehicles in the middle of last month.
Li Jun, who has driven cars from the Chinese Academy of Arts, a government-funded institution, for 10 years, said the restriction would not affect him much.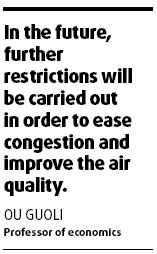 "We'll just arrange another car to drive our chief. Or we can just buy a new car," Li said in a telephone interview.
"What's important about the restriction is that the government is showing its attitude and giving a signal to citizens," he said.
Song Zhi, a driver for the government-financed China Conservatory, agreed by saying that the State-owned vehicles took a small part of the total vehicles in Beijing, so the actual impact is quite limited.
Zhou Zhengyu, deputy director of the Beijing municipal committee of communications, said last month there are about 300,000 government-financed vehicles among 3.29 million vehicles in Beijing by the end of June.
"But the government has to do something first before asking the residents to follow," Song said.
Ou Guoli, a professor of economics at Beijing Jiaotong University, who does research on traffic regulations with economic measures, agreed with Song.
"This is the first step taken by the government to save energy and reduce emissions. It will benefit both the traffic and environment," Ou said.
"In the future, further restrictions will be carried out in order to ease congestion and improve the air quality. Economic means should be used more such as charging the license tax and rising the parking fee," Ou said.
Mao Baohua, a professor of traffic systems at Beijing Jiaotong University, said the restriction on state-owned vehicles was good, but it would bring just a little help to the environment.
"The odd-even plate license ban cut air pollution and traffic jams. Can the new restriction do the same? Never," Mao said.
Beijing started the odd-even rule on July 20, which kept about 40 percent of vehicles off the roads every day. Average vehicle speed rose by 10 percent to 43 kph, Zhou said.