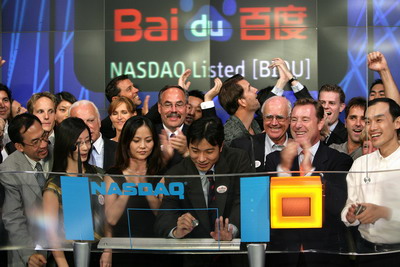 Robin Li (fourth from left), CEO of Baidu.com Inc, rings the NASDAQ closing bell on August 5, 2005 at NASDAQ's Market Site in New York City. [China Daily]
When Robert Theleen set up his China-focused private equity fund in 1982, the American venture capitalist was faced with a dilemma: there were few Chinese entrepreneurs with whom to make a deal on the mainland.
The reason was simple: a planned economy simply needed no entrepreneurs. And following Deng Xiaoping's move to reform the economy in 1978, the first group of private businesses were still struggling to accumulate their first fortunes.
Theleen's ChinaVest, the first foreign venture capital fund focused on the mainland, had to cast its sights on entrepreneurs from Hong Kong and Taiwan instead. And as there were basically no hi-tech industries on the mainland at the time, ChinaVest could only put its bets on the export-oriented manufacturers, thanks to the nation's enormous pool of low-cost labor.
Twenty years later, Theleen's dilemma was gone. Venture capitalists, from abroad and home, are flying into the nation to bargain with picky entrepreneurs for deals that could make them millions of dollars. The nation, still labeled a manufacturing powerhouse, is showing the potential to fashion itself into an innovation hotbed, as investors spend heavily in a bid to cultivate the next Baidu, Sohu.com and SunTech.
"I am excited about the entrepreneurship and the potential for innovation we are seeing here," Timothy Draper, a veteran Silicon Valley venture capitalist, said in an interview with China Business Weekly last year. "We may see some world-class (businesses) coming from this nation in a few years."
'Briefcase company'
Although ChinaVest made its first deal in the 1980s, its first substantial payout came about 10 years later. In 1997, Zindart Manufacturing Limited, in which ChinaVest invested $12 million in 1993, became the first Chinese company to be listed on NASDAQ.
It's difficult to find the information about the deals ChinaVest made in the 1980s. And when Zhao Jun, the company's executive director, recalls the period, he only says: "When it comes to investment, you can't lag behind the others. However, you also can't be too fast. You need to do things according to the overall economic environment."
Like many other novel concepts that have sprung up in China in the past 30 years, venture capitalists like Theleen were initially met with skepticism and mistrust.
"People used to call us 'briefcase companies', which often referred to the ones set up by swindlers with only a briefcase and a rented office," recalls Xiong Xiaoge, the founding partner of IDG Technology Venture Investment (IDGVC).
Xiong was also among the first group of venture capitalists in China. After completing his graduate studies at Boston University, Xiong joined the International Digital Group, an IT research and media corporation. In 1993, Xiong helped the US company establish IDGVC in China, which later invested in 100 startups in the nation, including Baidu Inc, Ctrip, Sohu.com, and Tencent. The venture capital fund had 1.5 billion yuan under its management.
Nowadays, when Xiong appears at an investment forum, eager entrepreneurs swarm to his side to ask for his business cards, which only contain the telephone number of his secretary.
"But back in the '90s, entrepreneurs often saw us as charlatans," says Xiong. "We agreed to give them money, only asked for a minority stake, promised to cash out sometime, and weren't fussy about dividends. It took a lot of talk to make people believe that such good deals exist at all."
To make his so-called "briefcase company" look more reliable, Xiong and other venture capitalists also chose to partner with the government.
In 1993, IDG invested $20 million to set up a joint venture capital firm with the Shanghai Municipal Science and Technology Commission.
This strategy offered a shortcut for foreign venture capital firms to tap into innovations held by government-funded research institutions. It also helped government officials to become familiar with the concept. A series of incentives to spur the development of China's venture capital sector were later rolled out.
However, for every shortcut, there is a price. Some venture capital firms were required to invest only in the precincts of their government partners in order to boost the local economy. This meant some promising opportunities had to be sacrificed simply due to the target company's location. And some venture capitalists also complained about the low-efficiency of their government partners.
Forerunners
The Chinese who received their PhDs abroad were the first entrepreneurs who benefited from the rise of China's venture capital sector. Charles Zhang, founder and chairman of Sohu.com, is often recognized as a poster child for the venture investment boom.
Zhang, a Xi'an native from West China's Shaanxi province, completed his undergraduate studies at Tsinghua University in 1986 and later received his PhD in experimental physics from the Massachusetts Institute of Technology in 1993.